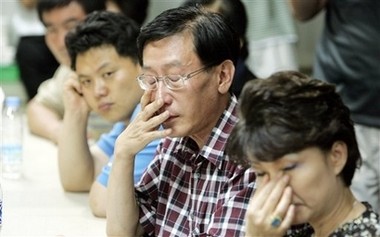 Relatives of South Koreans kidnapped in Afghanistan react as they watch TV news reports on negotiations in Seoul.
Taliban militants in Afghanistan said Wednesday they had killed one of their 23 South Korean hostages because talks with the government for a prisoner swap had stalled.
Seoul said it was urgently checking the claim by the Islamist rebels amid reports that eight of the Christian aid workers had been released. There was no official confirmation from Afghan authorities.
The Taliban meanwhile freed a German journalist -- the third German to be kidnapped in a week in war-torn Afghanistan -- and his Afghan translator hours after abducting them in the east of the country, officials said.
South Korean presidential spokesman Oh Young-Jin spokesman was unable to confirm a report by South Korea's Yonhap news agency, quoting an unidentified government official in Seoul, that eight of the hostages were freed Wednesday.
The hostages were to be moved to a safe zone and then flown back to South Korea after a medical check-up, Yonhap said.
The Koreans are the biggest group of foreigners to be abducted by the Taliban since US-led forces toppled the hardline regime in late 2001 after the 9/11 attacks on the United States.
A fresh hostage crisis for Germany was defused with the mediation of tribal elders and other influential people in eastern Afghanistan's Kunar province bordering Pakistan after a few hours when officials said Taliban rebels had freed the unidentified German reporter and his Afghan companion.
An official speaking on condition of anonymity said the government had put extreme pressure on elders to help win the reporter's release, based on an earlier agreement that the tribes were not to allow Taliban activity in the district.
Two other Germans were kidnapped in the south of the country last Wednesday.
The bullet-riddled body of one was dumped by a road on Sunday while the Taliban said the other was very sick and slipping in and out of consciousness due to diabetes.
The Taliban have demanded the release of 10 prisoners for the sick German and four other Afghan hostages, but have not set a deadline related to that group of captives.
The Taliban have previously called for South Korea and Germany to pull their troops out of the country but the issue has not figured in their most recent set of demands.
Seoul has repeatedly said it will withdraw its 200 troops serving with a US-led coalition in Afghanistan by the end of the year. Berlin has about 3,000 soldiers in the central Asian nation under NATO command.