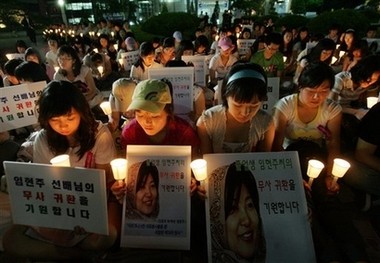 South Korean students lit candles during a rally demanding the safe return of South Koreans kidnapped in Afghanistan, at the Science College in Daegu, south of Seoul, Monday, July 30, 2007.
Afghanistan's Taliban set the government a new deadline of noon (0730 GMT) Wednesday to meet its demands in order to save 21 South Koreans, a day after a second hostage was killed.
The hardline Islamic militia wants the government to free at least eight Taliban prisoners in Afghan jails, a demand government negotiators have rejected.
"If our demands are not met by then, we will start killing the rest of the South Koreans," Taliban spokesman Yousuf Ahmadi told AFP.
The bullet-riddled body of the second hostage to be killed since 23 were kidnapped nearly two weeks ago was found overnight in the southern province of Ghazni, about 140 kilometres (90 miles) south of Kabul.
South Korea's foreign ministry identified the victim as Shim Sung-Min, 29, as the country reacted with outrage.
"The Korean government strongly condemns and urges an immediate end to these heinous acts of killing innocent people in order to press for demands that it can't meet," the presidential office said, referring to the Taliban demand for the release of prisoners.
Media reports said Shim had quit his job at a Seoul IT company two months ago to become a teacher to the disabled at a Seoul church which had then sent him to Afghanistan on an aid mission.
The body of pastor Bae Hyung-kyu, 42, who had been leading the group through the risky Afghan region, was found in the same area last Wednesday.
The South Korean government urged the international community to "use flexibility" to save the remaining 21 hostages.
But a spokesman for President Hamid Karzai said the Taliban's demands should "as a principle" not be accepted as this would only encourage kidnapping.