The Taliban on Sunday for the first time threatened to attack polling stations directly, stepping up warnings for Afghans to boycott landmark elections this week.
The threat was made in leaflets, pinned up and dropped in villages of southern Afghanistan, which were authenticated by a Taliban spokesman and released one day after a suicide attack outside NATO headquarters in Kabul.
The text varied slightly in language, attributed to different local commanders in a region considered the main Taliban stronghold in the country.
"This is to inform respected residents that you must not participate in the elections so as not to become a victim of our operations, because we will use new tactics," said one leaflet distributed in Kandahar city and seen by AFP.
The text began with a verse from the Koran urging Muslims not to seek friendship and cooperation with enemies of Islam.
The letter was signed by Mullah Ghulam Haidar, the guerrillas' purported operations commander in Kandahar city. It said voters -- as allies of the Afghan government and foreign forces -- would be considered enemies of Islam.
"All people are being informed that you must not rent out property to voting centres and if anyone did -- even after elections -- they may face problems," said the letter.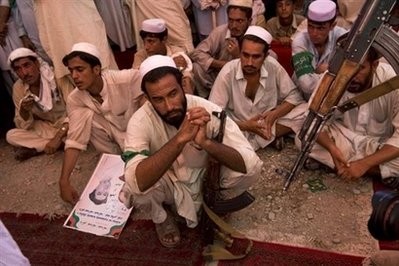 Bodyguards of presidential candidate Abdullah Abdullah look on as he addresses an electoral rally in Nangarhar province
Taliban spokesman Qari Yousuf Ahmadi confirmed the leaflets were authentic and that commanders were ordering the masses to boycott the vote.
"We are using new tactics targeting election centres. If anyone is harmed in and around election centres, they will be responsible because we have informed them in advance," Ahmadi told AFP.
"We will accelerate our activities on election day and the day before," the spokesman added.
The leaflets marked the first direct Taliban threat to attack polling sites. Late last month, the Taliban ordered voters to boycott the polls and join the ranks of the militia in waging holy war to "liberate" Afghanistan.
Taliban threats and soaring attacks have raised widespread concern that the presidential and provincial polls will be marred by poor voter turnout, which could jeopardise the legitimacy of the elections.
The Taliban claimed a suicide bombing outside NATO headquarters in Kabul on Saturday that killed seven civilians and wounded 91 others.
The bombing "was a warning that the Taliban can attack any time," said author and analyst Waheed Mujda. "The tactics they use make them very difficult to stop," he said.
The Afghan government had said Friday that a series of peace deals had been reached with Taliban commanders in the south in a bid to ensure people can vote safely in next week's presidential poll.