COLOMBO, April 27, 2009 (AFP) - Sri Lanka's Tamil Tigers will "never surrender" and will fight on until their "legitimate demands" are met, rebel spokesman S. Puleethevan told AFP by telephone on Monday.
He said fighting was continuing to rage between the Liberation Tigers of Tamil Eelam (LTTE) and security forces on Monday, a day after the government rejected a ceasefire offer from the guerrillas.
"We made our position very clear to the international community. We will never surrender till our legitimate demands are met," Puleethevan said.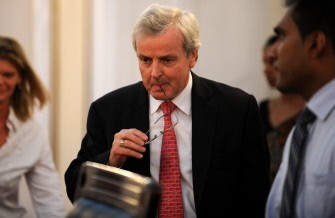 United Nations humanitarian chief John Holmes arrives for a meeting with Sri Lanka's Foreign Minister Rohitha Bogollagama in Colombo on April 27, 2009. Sri Lanka rejected a ceasefire offered by Tamil Tigers April 26 as the top United Nations humanitarian official pleaded for the safety of thousands of civilians still trapped in the war zone. (AFP photo)
The Tamil Tigers have been fighting for independence in the majority Sinhalese nation since 1972.