Tanks rumbled into the central city of Homs at dawn Saturday, a day after security forces killed at least 34 anti-regime protesters across Syria, adding urgency to a UN mission expected this weekend.
"Several tanks took up positions at dawn in the district of Al-Khalidiyeh" in the central city of Homs, Rami Abdel Rahman, head of the Britain-based Syrian Observatory for Human Rights, told AFP.
"Throughout the night and this morning shots were heard from Al-Khalidiyeh to Baba Amr and Inshaat," he added, referring to two other central locations in the city.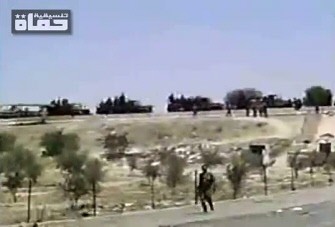 An image grab taken from a video uploaded on YouTube on August 19, 2011 shows Syrian security forces taking position in the central city of Hama during military operations
Regime forces were also conducting arrests in the city of Latakia early Saturday, the Observatory said, adding that many of those picked up were minors.
In addition, one person was wounded Saturday in the Al-Herak district of southern Daraa province where relatives and parents staged a protest outside a hospital demanding the bodies of their loved ones, the Observatory said.
According to the rights advocacy group the death toll from Friday's crackdown on protesters rose to 34, including 15 people who were killed in Daraa where 25 others were also wounded.
It said security forces had also killed 16 civilians in the central province of Homs, including five in the flashpoint neighbourhood of Al-Khalidiyeh.
Three protesters were also shot dead on Friday in the Damascus suburbs of Harasta and Douma, the Observatory said.
The United Nations said that a UN humanitarian mission would visit Syria this weekend to witness the effects of the crackdown on protesters.
UN High Commissioner for Human Rights Navi Pillay told the Security Council on Thursday there was "reliable corroborative evidence" that Syrian forces are deliberately shooting anti-regime demonstrators.
Pillay also said in an interview with France 24 television that her body had drawn up a list of 50 Syrians in senior positions that she said were responsible for violent repression.
The civilian death toll from the security force crackdown on the protests has now passed 2,000, UN Under Secretary General B. Lynn Pascoe also told the Security Council on Thursday.
On Friday the Observatory reported that 20,000 people had marched in Al-Khalidiyeh alone on a day of protest demanding the fall of Assad's autocratic regime, with protests in other parts of the country.
Friday's rallies put to the test a commitment given by embattled Syrian President Bashar al-Assad to UN chief Ban Ki-moon the previous day that his security forces have ended operations against civilians.
Human Rights Watch meanwhile urged the Organisation of Islamic Cooperation to take action against member state Syria, saying it had violated its charter "by systematically and brutally suppressing peaceful civilian protests."
Meanwhile, Russia and Turkey dismissed growing calls led by US President Barack Obama for Assad to quit, offering the Syrian leader rare support despite a damning UN report on his "apparent shoot to kill" policy.
"We do not share the United States and the European Union's point of view regarding President al-Assad and will continue to pursue our consistent and principled stance on Syria," the foreign ministry said in Moscow.
A government official in Ankara agreed and told AFP a call for Assad's ouster must come from the Syrian people themselves.
"The Syrian opposition is not united and we haven't seen yet a collective call from Syrians to tell Assad to go, like in Egypt and Libya," he said.
Frustrated that international calls for a halt to the bloodletting were being snubbed by Damascus, Obama on Thursday called for Assad to quit for the first time since the protests broke out.
His call was quickly echoed by the leaders of Britain, France and Germany while Spain followed suit on Friday.
On the political front, a group of "revolutionary blocs" announced Friday the formation of a coalition called Syrian Revolution General Commission, vowing to bring down the regime.
It said the coalition of 44 groups was set up due to "the dire need to unite the field, media and political efforts" of the pro-democracy movement.
Meanwhile, the European Union added 20 new names to a list of Syrian individuals and businesses hit with sanctions, with a deal also now close for a ban on oil imports.
European nations buy most of Syria's oil exports, which amounted to some 148,000 barrels a day in 2009, according to the US Energy Information Administration.