HOLLYWOOD, March 6, 2010 (AFP) - From winners sobbing uncontrollably to shocking political outbursts, bizarre snubs and streakers, the Oscars have seen it all, and Sunday's Academy Awards will likely provide fresh drama of its own.
Organizers of Hollywood's biggest night are white-knuckled as they brace for more tales of the unexpected that could anger viewers or throw the finely-calibrated global telecast off schedule.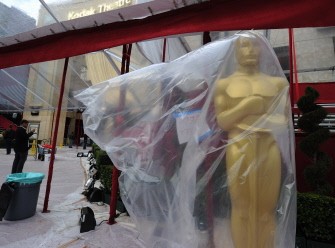 An Oscar statue stands covered in the rain on the day before the 82nd Academy Awards at the Kodak Theater in Hollywood, California on March 6, 2010. AFP PHOTO
But the raw emotion and the unscripted moments of what remains a tightly choreographed extravaganza are also what makes Oscars night memorable.
With a global television audience in the billions, the temptation to use the event as a platform for political statements has proved irresistible for past winners, from Marlon Brando to Michael Moore.
Boos rang out around the Kodak Theater in 2003 when maverick film-maker Moore launched a vitriolic attack on US President George W. Bush for waging war in Iraq. But Moore was only following the tradition of turning the winners podium into a pulpit.
Arguably the most famous example came in 1973, when a woman calling herself Sacheen Littlefeather stood before the stunned audience to collect Marlon Brando's best actor Oscar for "The Godfather."
Littlefeather promptly refused to collect the award on Brando's behalf to protest the movie industry's treatment of Native Americans.
Four years later, Vanessa Redgrave drew gasps and boos from the Oscars faithful when she thanked the Academy for honoring her in "Julia" despite "the threats of a small bunch of Zionist hoodlums."
In the same awards ceremony, Oscars presenter Paddy Chayefsky chastised her to much applause: "I am sick and tired of people exploiting the Academy Awards for the propagation of their own personal propaganda.
"I would like to suggest to Miss Redgrave that her winning an Academy Award is not a pivotal moment in history, does not require a proclamation, and a simple 'Thank you' would have sufficed."
Sometimes, the choice of awards recipients can stoke controversy.
The decision to grant director Elia Kazan a lifetime achievement award in 1999 divided the glitterati, with dozens of stars refusing to rise or applaud, in protest at the filmmaker's decision to co-operate with the authorities during the 1950s communist witch-hunts.
Politics aside, Oscars night has been littered with memorable one-offs.
In 1974, a naked man invaded the stage as actor David Niven was hosting the show, prompting him to quip: "The only laugh that man will ever get in his life is by stripping ... and showing his shortcomings."
More recently, in 2003, actor Adrien Brody stunned viewers and superstar Halle Berry by kissing her passionately on the lips as she presented his best actor statuette, creating an Oscars signature moment.
Italian Roberto Benigni made a stir in 1999 when he euphorically leapt onto a chair and jumped from one seat to the next when he won the best foreign film Oscar for "Life Is Beautiful."
Meanwhile, organizers of the Oscars show have urged winners of the coveted statuettes to avoid dull acceptance speeches which comprise a list of names.
"Thank you speeches, which just recite an endless list of names that the public doesn't know, isn't just boring -- it's the single most hated thing on the show," producer Bill Mechanic told nominees on February 15.
Mechanic reminded possible Oscar winners who did not abide by the 45-second time limit on acceptance speeches that producers could employ a variety of measures to keep the show running on time.
Orchestral music could be used to drown out a recipient's words or a microphone could simply be switched off. "Our favorite was a trap door but we were talked out of it," he said.