TUCSON, Arizona, Jan 12, 2011 (AFP) - Tears mingled with cheers Wednesday at an emotional service to honor victims of the deadly Tucson shootings, and to hail those who tackled the gunman, preventing an even bigger massacre.
Over 14,000 packed an arena at the University of Arizona to hear a sombre but passionate President Barack Obama lead an outpouring of grief over the attack Saturday, which left lawmaker Gabrielle Giffords fighting for her life.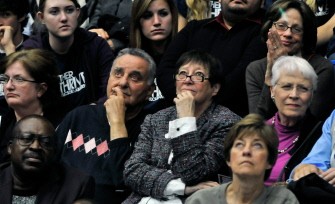 Attendees looks up at the overhead projection screen at an event honoring the January 8 shooting victims at McKale Memorial Center on the University of Arizona campus on January 12, 2011 in Tucson, Arizona. AFP
"I think it took a tragedy for the rest of the world to see how much compassion and unity there is in Tucson," said Christin Gilmer, 26, who used to work for Giffords and knew two of the shooting victims.
The service, which offered eulogies to the victims but also seemed like a pep rally at times, brought together political foes such as Obama and Republican Governor Jan Brewer and Senator John McCain.
The crowd -- and thousands more outside -- offered loud applause to Daniel Hernandez, the intern who came to aid and likely saved the life of Giffords, who was critically injured with a bullet through the brain.
But Hernandez, standing somberly while he was given a standing ovation, insisted was not a hero.
"Although I appreciate the sentiment, I must humbly reject the use of the word hero, because I am not one ... The real heros are the people who have dedicated their lives to public service," he said.
Obama flatly contradicted him, saying: "You may deny it, but we've decided you are a hero," prompting another surge of emotion and ovation for the young intern.
But the biggest applause came when Obama announced that, just after a visit to Giffords in hospital shortly before the service, she had opened her eyes for the first time.
"Gabby opened her eyes. So I can tell you, she knows we are here. She knows we love her. And she knows that we are rooting for her through what is undoubtedly going to be a difficult journey," he said.
Michelle Obama could be seen wiping away a tear, before hugging Hernandez, who sat next to her, and holding hands with Mark Kelly, Giffords's astronaut husband on her other side.
The service was held barely a mile away from the University Medical Centre where the victims were treated -- and were a colorful carpet of flowers, cards and balloons has built up in the days since the shooting.
It opened to an orchestra playing the poignant "Fanfare for the Common Man" by composer Aaron Copeland, while organizers handed out "Together We Thrive" T-shirts.
University of Arizona president Robert Shelton said the gathering aimed "to bring comfort to those whose lives have been forever changed by an act so heinous that it is simply impossible to comprehend."
Obama concluded with an emotional tribute to the youngest shooting victim, nine-year-old Christina Taylor Green, who went to the gathering last Saturday to see her congresswoman.
The youngster was born on September 11, 2001, and was one of 50 babies born that day to be pictured in a book called "Faces of Hope."
On either side of her photo were wishes, he said, including "I hope you help those in need," and "I hope you know all of the words to the National Anthem and sing it with your hand over your heart. I hope you jump in rain puddles."
"If there are rain puddles in heaven, Christina is jumping in them today," said Obama, to rousing applause from the assembled throng.