A gunman walked up to a bus taking children home from school in Pakistan's volatile Swat Valley Tuesday and shot and wounded a 14-year-old activist known for championing the education of girls and publicizing atrocities committed by the Taliban, officials said.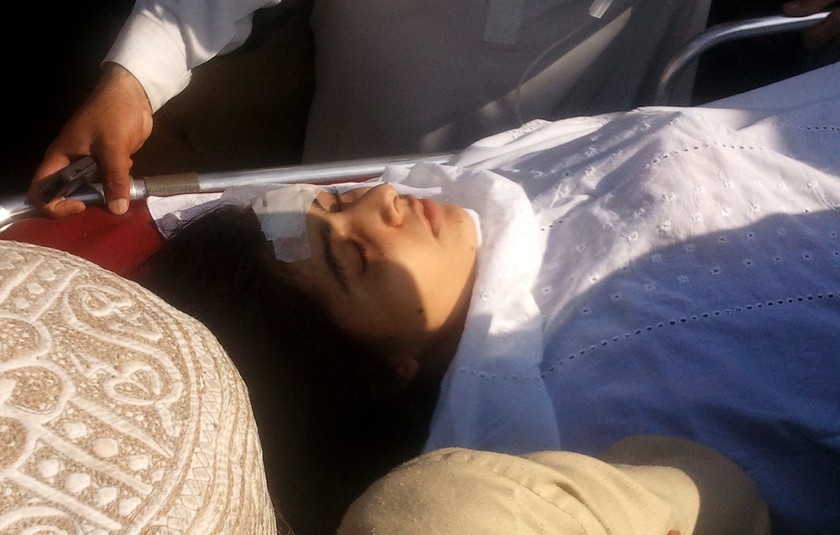 A wounded Pakistani girl, Malala Yousufzai, is moved to a helicopter to be taken to Peshawar for treatment in Mingora, Swat Valley, Pakistan on Tuesday, Oct. 9, 2012.
The attack in the city of Mingora targeted 14-year-old Malala Yousufzai, who is widely respected for her work to promote the schooling of girls — something that the Taliban strongly opposes. She was nominated last year for the International Children's Peace Prize.
The school bus was about to leave the school grounds in Mingora when a bearded man approached it and asked which one of the girls was Malala, said Rasool Shah, the police chief in the town. Another girl pointed to Malala, but the activist denied it was her and the gunmen then shot both of the girls, the police chief said.
Malala was shot twice — once in the head and once in the neck — but her wounds were not life-threatening, said Tariq Mohammad, a doctor at the main hospital in Mingora. The second girl shot was in stable condition, the doctor said.
There was no immediate claim of responsibility for the shooting. But Malala and her family had been threatened by the Taliban for her activism.
The attack displayed the viciousness of Islamic militants in Swat Valley, where the military conducted a major operation in 2009 to clear out insurgents. It was a reminder of the challenges of keeping the area free of militant influence.
The problems of young women in Pakistan were also the focus of a separate case before the high court, which ordered a probe into an alleged barter of seven girls to settle a blood feud in a remote southwestern district.
Chief Justice Iftikhar Chaudhry began proceedings into the allegations, which were first reported in the local media. The alleged trade happened in the Dera Bugti district of Baluchistan province between two groups within the Bugti tribe, one of the more prominent tribes in the province.
A tribal council ordered the barter in early September, the district deputy commissioner, Saeed Faisal, told the court. He did not know the girls' ages but local media reported they were between 4 and 13 years old.
However, the Advocate General for the province could not confirm the incident.
Chaudhry, the chief justice, ordered Faisal to make sure that all members of the tribal council appear in court on Wednesday, as well as a local lawmaker who belongs to one of the two sub-tribes believed involved in the incident.
The tradition of families exchanging unmarried girls to settle feuds is banned under Pakistani law but still practiced in the country's more conservative, tribal areas.