Iran has rejected claims by Manama that it has links to a "terrorist" cell busted in Bahrain, state television's website reported on Monday.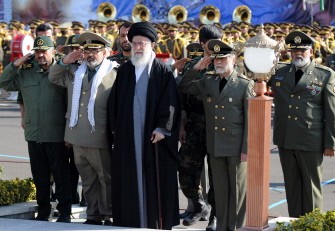 A handout picture released by the Iranian supreme leader's official website shows Iran's supreme leader Ayatollah Ali Khamenei (C) during a visit to a Tehran military college on November 10, 2011
Amir Abdolahian, a deputy foreign minister in charge of Arab and African affairs, was quoted as saying that the "baseless allegation" had been "fabricated by the United States."
"Intensifying the security atmosphere in Bahrain and pursuing the ineffective policy of Iranophobia will not lead to solving the problem," the website quoted him as telling Iran's Al-Alam Arabic language satellite television channel late Sunday.
"It is necessary for the Bahraini officials, instead of deflecting (their problems) and making these baseless allegations, to work on trust-building to solve the chasm created between the regime and the people," Abdolahian added.
Bahrain's judiciary on Sunday linked a busted "terrorist" cell to Iran's Revolutionary Guards, a day after announcing the arrest of five Bahrainis planning attacks in the Arab kingdom.
The five men are accused of belonging to a "terrorist group" with ties to the intelligence services of a foreign state, a judiciary spokesman said, quoted by state news agency BNA.
The spokesman said the five were to be "sent to Iran to receive military training," notably with the elite Revolutionary Guards.
On Saturday, the interior ministry said a cell had been broken up that was planning to attack the ministry, the Saudi embassy in Riyadh and the causeway which links the archipelago state to Saudi Arabia.
Citing alleged confessions from the suspects, the judiciary spokesman said the cell had been set up by two men he named as Abderrauf al-Shaieb and Ali Mashaima, living abroad, through contacts with the five accused.
"They coordinated with military structures abroad, including the Revolutionary Guards and the Basij (militia) in Iran to train the recruits of the group in handling arms and explosives," he said, without giving further details of the two alleged masterminds.
The Sunni-ruled Arab monarchies of the Gulf have repeatedly accused mainly Shiite Iran of meddling and of inciting the Shiite-led protests which rocked Bahrain for a month from mid-February.
The Bahraini government crushed the pro-democracy protest with the help of Gulf Cooperation Council troops, drawing condemnation from