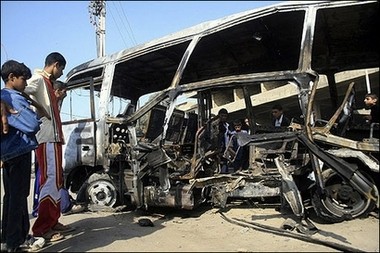 Iraqis inspect the wreckage of a bus where a suicide bomber blew himself up inside of it, at al-Shaab neighborhood north of Baghdad (AFP Photo)
At least 10 people died in a Baghdad bus bombing, as Prime Minister Nuri al-Maliki was expected to carry out a sweeping cabinet reshuffle in a bid to address some of Iraq's myriad problems.
Police around the Iraqi capital also found 46 bullet-riddled corpses, many of them tortured, of men shot to death in apparent sectarian attacks, a security source told AFP.
US President George W. Bush, meanwhile, met a heavyweight bipartisan panel to seek new strategies for the war in Iraq following last week's victory for the Democrats in congressional polls.
The urgent need for change was underlined by the suicide attack on a bus near a church in northeast Baghdad that also wounded 17 people, just a day after twin bombers killed 40 recruits at a police commando base.
The latest US casualties brought its death toll in Iraq since the 2003 invasion to 2,846, according to an AFP count based on Pentagon figures.
On Monday, Bush met with the Iraq Study Group, a panel headed by former US secretary of state James Baker and former Democratic lawmaker Lee Hamilton, at the White House to discuss possible new strategies for victory in Iraq.
The group was expected to unveil far-reaching recommendations next month.
British Prime Minister Tony Blair is due to give videolink evidence on Tuesday to the bipartisan panel.
Leading Democratic lawmakers, fired up by retaking the US Congress in elections last week, said Sunday they hoped to begin a phased withdrawal of US troops within four to six months and heap pressure on Iraqis to take charge.
Bush has said he will consider any suggestions that lead to victory in Iraq, but has flatly rejected setting a timetable for bringing home the roughly 150,000 US troops in Iraq.
On Monday the head of US Central Command, General John Abizaid, met Maliki and "reaffirmed to the prime minister the commitment of Bush to the success of the political process in Iraq," an Iraqi government statement said.
It added that US forces were dedicated to continued cooperation with the Iraqi government to train its armed forces so that they can take responsibility for security.