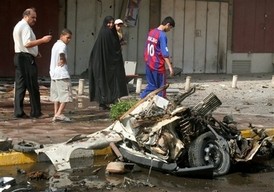 Iraqis walk past a car bomb wreck in Baghdad, Iraq, Wednesday Oct. 18, 2006 (AFP Photo)
Ten US soldiers were killed in a single day of fighting in Iraq, their headquarters said Wednesday, amid a steep spike in military deaths during the Muslim holy month of Ramadan.
In the bloodiest of Tuesday's incidents, four soldiers were killed when their vehicle hit a roadside booby-trap west of the Iraqi capital.
A military statement said the four serving with Multinational Division Baghdad were killed at around 6:50 am (0350 GMT).
Separately, another soldier was shot dead when his patrol was ambushed in Baghdad almost three hours later, and yet another killed when his patrol was hit in the afternoon by another roadside bomb north of the city.
A US marine died of wounds "sustained during enemy action" in the western province of Anbar.
Also Tuesday, three soldiers from "Task Force Lightning" were killed and one was wounded "as a result of enemy action" during operations in Diyala province, north of Baghdad.
Over the first 17 days of the month US soldiers have been dying at a rate of almost four a day, and if they continue to do so more will have been killed in October than at any time since January 2005, when 107 died.
The latest killings brought the number of US military personnel to have died in the Iraq campaign since the March 2003 invasion to 2,776, according to an AFP count based on Pentagon figures.