China's biggest earthquake for a generation left tens of thousands dead, missing or buried under the rubble of crushed communities Tuesday, plunging the nation into an all-out aid effort.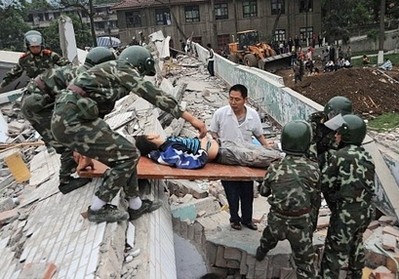 Chinese rescuers remove an injured student from the rubble of a high school in Beichuan County, in China's Sichuan province. China's biggest earthquake for a generation left tens of thousands dead, missing or buried under the rubble of crushed communities Tuesday, plunging the nation into an all-out aid effort.(AFP/Xinhua/AFP)
Troops and rescue teams struggled by air, land and water to reach areas of southwestern China stricken by the huge quake that demolished schools, homes and factories.
The confirmed death toll from the 7.8-magnitude quake in Sichuan province has risen to nearly 12,000, a government official said on Tuesday.
"So far the death toll from the earthquake has reached 11,921," Wang Zhenyao, head of the Civil Affairs Ministry's disaster relief department, told a news conference in Beijing.However, the figure is expected to rise dramatically with at least 10,000 people reported buried in Mianzhu city alone.
Television pictures showed shattered buildings, roads split in two, rubble littering streets and survivors fighting to free themselves from the debris, even as aftershocks continued to pummel the region.
China mobilised its 2.3 million-strong armed forces to lead the search and rescue effort, but attempts to reach the worst-hit areas were badly disrupted by torrential rain and the sheer scale of the damage.
"The situation is worse than we previously estimated," Chinese Premier Wen Jiabao said at disaster relief headquarters in the Sichuan city of Dujiangyan, "and we need more people here to help."
However a team of 1,300 troops and army medics finally made it to Wenchuan county, a poor mountainous region of 112,000 people at the quake's epicentre, after hiking through the rugged terrain.
They immediately started searching for survivors and treating the injured, the state-run Xinhua news agency reported.
The quake struck in the middle of the afternoon when schools, factories and offices were full, contributing to the high death toll.
While most buildings in larger cities withstood the impact, those in rural areas would not have been designed for the shock.
"I lost everything. I lost my house and I lost my mother," said Dujiangyan resident Wen Xiaoping as he stood over his mother's body squeezed out of the debris.
Up to 5,000 people were killed in one district, Beichuan, where 80 percent of buildings had collapsed, Xinhua said. One of them was a packed school which crumbled, burying up to 1,000 pupils and teachers.
"Several thousand" were reported killed or buried after a factory collapsed nearby, while over 600 died and 2,300 were buried in Shifang city where there was a major chemical leak.
Hundreds were also feared buried at a school in Dujiangyan, where rescuers were pulling out battered bodies and placing them in a row at the front.
Some buried teenagers struggled to break free, while others could only cry out for help as grieving parents watched.
The dead or missing included some foreigners. Xinhua reported 37 tourists were killed when a landslide buried their coach in Aba prefecture in Sichuan, while officials said they also lost contact with 15 visiting Britons.
State television said the army planned to airlift 10,000 armed forces into the worst-hit areas, and Premier Wen told the military to prepare to drop food and medicine by air.
Attempts to reach Wenchuan -- including by speedboats across a reservoir -- were earlier frustrated by impassable roads and the bad weather.
The county is home to the Wolong Nature Reserve, China's leading research and breeding base for giant pandas .
The huge quake struck at 2:28 pm Monday and rocked skyscrapers up to 1,800 kilometres (1,200 miles) away in cities across China and a swathe of Southeast Asia, sending panicked residents into the streets.
A freight train including 13 tankers full of gasoline derailed and caught fire in nearby Gansu province and was still burning Tuesday, cutting the line and forcing the evacuation of 600 residents.
World powers, including the United States, the European Union, Russia and Japan, and leaders, including the Dalai Lama rallied round China with sympathy and pledges of help.
Chinese authorities announced an initial allocation of 200 million yuan (29 million dollars) in relief funds.
The epicentre was about 93 kilometres from Chengdu, a city of more than 12 million people, and 260 kilometres from Chongqing and its 30 million.
The toll is the highest for a quake in China since 242,000 people perished when the northern city of Tangshan was flattened in 1976.
Meanwhile Beijing Olympic officials insisted venues for the summer's Games were safe and the Olympic torch continued its odyssey with a relay Tuesday in the southeast province of Fujian.