BEIJING, Aug 22, 2010 (AFP) - More than 120,000 people have been evacuated in northeast China following serious floods that have already left four dead and forced the relocation of thousands in neighbouring North Korea.
Heavy summer downpours have dangerously swollen the Yalu river, which forms the border between the two countries, and forecasters are warning of yet more torrential rain to come.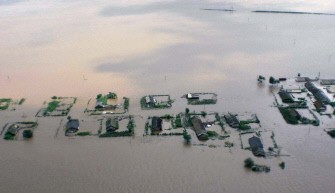 This picture released by North Korea's Central News Agency on August 21 and distributed by Tokyo's Korean News Service shows houses submerged in floodwaters near the Sinuiju area in North Pyongan province near the northern border with China formed by the Yalu river. AFP
China's civil affairs ministry said late Saturday that 127,000 people had been evacuated in Liaoning province in just three days due to the rains, as the nation struggles with its worst floods in a decade.
In Dandong city alone, which borders North Korea, more than 94,000 residents were evacuated and some power and transport links were cut off, the official Xinhua news agency reported.
A couple in their 70s and a mother and son died in Kuandian county, around 100 kilometres (60 miles) northeast of Dandong, when flash floods swept away their homes, Xinhua said, citing a local flood control official.
A 60-year-old man was also missing in Kuandian after his house collapsed in a rain-triggered landslide.
According to the state-run Beijing Times, the floods in Dandong are the second most serious since 1949. Photos showed people being airlifted from damaged rooftops by helicopters as grey water swirled around buildings.
China's national meteorological centre warned Sunday that new downpours were expected in parts of Liaoning, including Dandong, for another 24 hours at least.
In neighbouring North Korea, more than 5,000 people have been moved to safety after parts of Sinuiju city and rural communities near the border were "completely inundated", the official Korean Central News Agency said.
Traffic in downtown Sinuiju was "paralysed" and flood victims were stranded on rooftops and on hills, prompting the North's leader Kim Jong-Il to order an emergency military rescue operation, it added.
Nearly 3,900 Chinese have been killed or left missing this year in flood-related incidents, official figures show.
In the northwestern province of Gansu, a torrent of mud on August 7 slammed into homes in the remote town of Zhouqu, leaving at least 1,434 people dead and another 331 missing.
In the southwestern province of Yunnan, rescuers are searching for 69 people who went missing in rain-triggered mudslides in a remote, mountainous area. Twenty-three people have been confirmed dead, Xinhua said.