TUNIS (AFP) – A tense calm returned to Tunisia on Sunday as talks on a new government got under way after the overthrow of strongman Zine El Abidine Ben Ali in the Arab world's first popular revolt in recent history.
Some cafes re-opened in the centre of the capital Tunis -- the scene of violent clashes in the days running up to Ben Ali's abrupt departure on Friday -- as the army continued its lockdown of the city centre.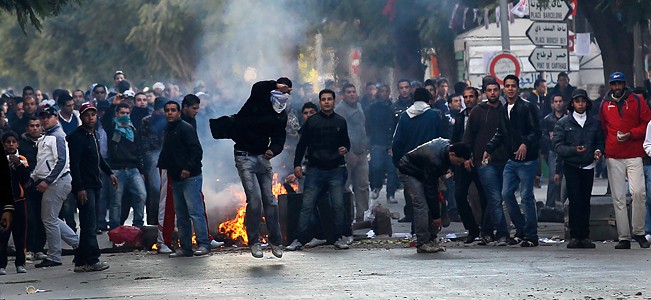 Demonstrators throw rocks towards police during clashes in Tunis.
The night in Tunis was punctuated by the crackle of gunfire despite a strict curfew and army helicopters circled overhead, as eyewitnesses reported people riding around in ambulances and cars in the suburbs shooting up homes at random.
"You can't ignore the power of disruption of the presidential security apparatus that was headed up by general Ali Seriati. It has thousands of supporters of Ben Ali," a source said on condition of anonymity.
Tunisia's new acting president, speaker of parliament Foued Mebazaa, was sworn in on Saturday after Ben Ali fled with his family to Saudi Arabia following weeks of social protests in cities across the North African state against his regime.
Mebazaa said earlier that all Tunisians "without exception" would now be able to take part in national politics in the once tightly-controlled country and a presidential election is due to be held in two months' time.
Mebazaa called for a unity government in "the greater national interest."
Prime Minister Mohammed Ghannouchi met with some opposition leaders on Saturday and was set to hold roundtable discussions on Sunday with all the legal political parties in Tunisia on the formation of a new government.
The exiled head of the main Tunisian Islamist party, which was banned by Ben Ali, told AFP on Saturday that he now planned to return to his homeland.
"The Tunisian intifada has succeeded in collapsing the dictatorship," said Rached Ghannouchi, leader of the Ennahdha party, speaking from London.
There were chaotic scenes in and around Tunis on Saturday, with young people joyriding in stolen cars and gangs looting and setting fire to homes and shops.
The main railway station in Tunis was attacked and portraits of Ben Ali were torn down around the country. Most of the violence appeared to target the property of Ben Ali's family and his residence in Hammamet was pillaged.
Soldiers were seen dragging dozens of suspected looters from their cars at gunpoint and loading them into trucks at a checkpoint outside the city.
In Monastir in central Tunisia on Saturday at least 42 prisoners died in a fire after one inmate set his mattress alight -- one of several attempted escape bids as inmates apparently sought to take advantage of the chaos.
Ben Ali signed his resignation on Friday after a wave of protests sparked by the suicide of a 26-year-old university graduate who was prevented by police from selling fruit and vegetables to make a living.
Human rights groups say dozens of people were killed in the protests, which began last month and have since escalated into a popular movement against unemployment, poverty and the alleged corruption of the ruling elite.
International powers including European nations and the United States urged calm in Tunisia and called for democracy in the southern Mediterranean country after events that Tunisian Internet users have dubbed the "Jasmine Revolution".
France, once one of Ben Ali's closest allies and Tunisia's former colonial overlord, said that the people of Tunisia had "expressed their democratic will" and called for "free elections in the shortest time possible."
Thousands of jubilant Tunisians marched through the centre of Paris to celebrate Ben Ali's downfall. There were similar rallies in Belgium and Italy.
The Arab League said the overthrow of Ben Ali was a "historic" event but many Arab governments were cautious about the dramatic events in Tunisia.
Egypt on Saturday urged Tunisians to "stand together" to "avoid descending the country into chaos" and Libyan leader Moamar Kadhafi said he regretted Ben Ali's fall which he described as a "great loss".
Kadhafi said he believed Ben Ali was still legally president.
There was a clear sense of relief among many Tunisians over the toppling of the widely-hated Ben Ali but also fears for the country's future.
Ben Ali came to power in a bloodless coup in 1987 at a time of stagnation for Tunisia and was initially hailed by many for enacting liberal reforms but the lavish lifestyle of his inner circle sparked outrage in recent years.
One of the hallmarks of his regime was the crackdown on political Islam.
As tensions have grown, thousands of holidaymakers have been evacuated from the Mediterranean nation's famous beach resorts, and Europe and the United States have advised their citizens against non-essential travel to the country.