Tense negotiations to free 57 people held captive by tribal gunmen wanted for murder in the volatile southern Philippines entered their second day Friday, amid signs of a breakthrough.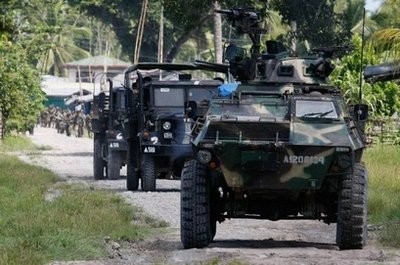 Philippine soldiers patrol Mindanao island (AFP Photo).
The gunmen, members of the indigenous Manobo tribe, said they were willing to free the hostages who spent the night in a mountain hideout surrounded by security forces, negotiator Josefina Bajade said.
"They are okay and alive," Bajade said of the hostages, who were among 75 people, including school children, initially seized by the group from a village in Prosperidad town on Mindanao island Thursday.
"They said they were willing to give up and release their hostages. We are optimistic they will be freed soon, hopefully within today," Bajade told AFP.
"They are receptive to the negotiations. Our communication lines are open."
The mass kidnapping is part of an explosion of violence that has been stunning even for the southern Philippines, a lawless region where Muslim and communist insurgents mix with warring clans, pirates and corrupt officials.
Maguindanao province on Mindanao island remained under martial law Friday following a massacre last month of 57 people allegedly by the heads of a Muslim clan that had ruled that area since 2001.
And suspected Al Qaeda-linked militants on Thursday abducted a college professor from a nearby island where they had just a day earlier severed the head of another captive, according to government officials there.
Fuelling the violence, the majority of the estimated 1.8 million unlicensed firearms in the Philippines are estimated to be in the Mindanao region.
Bajade on Friday identified those behind Thursday's mass kidnapping as members of the Perez clan, who belong to the indigenous Manobo tribe and are wanted for a string crimes including the murder of a member of a rival family.
She said the tribesmen launched the raid to prevent police from serving arrest warrants Thursday.
Police said the kidnap leader, Ondo Perez, has demanded that arrest warrants against them be lifted, and for police to also disarm members of their rivals, the Tubay clan.
Both clans have for years been locked in a bitter land dispute in Agusan del Sur province that had led to the killing, Bajade said.
"The main demand is for police to disarm the rival family. They feel they are being singled out," she said.
Meanwhile, security forces pressed ahead with efforts to disarm thousands of militiamen loyal to the Ampatuan clan in Maguindanao province following the November 23 massacre of 57 people there.
The Ampatuans are accused of organising the massacre to stop a rival politician from challenging for the post of provincial governor in next year's elections.
President Gloria Arroyo imposed martial law and accused the clan, whose patriarch had been governor since 2001, of rebellion.
Arroyo had used Ampatuans to help contain Muslim separatists, allowing them to maintain a well-armed private army that is being accused of having terrorised the public.
The Moro Islamic Liberation Front is the main Muslim rebel group in Mindanao, and their insurgency has claimed more than 150,000 lives since the late 1970s, according to the military.