BANGKOK, April 28, 2011 (AFP) - Key events in the conflict between Thailand and Cambodia over ancient temples located on their joint border: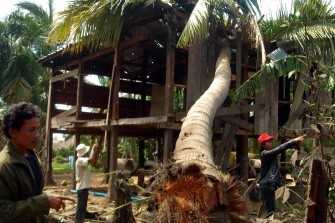 AFP - Cambodian people look at a damaged house in Samrong near the Cambodia-Thailand border in Oddar Meanchey province on April 28, 2011.

July 8, 2008
The Preah Vihear temple complex is awarded World Heritage status by the UN cultural body UNESCO, angering Thai nationalists. In 1962 the International Court had ruled that the temple complex belonged to Cambodia.

July 15, 2008
Thai protesters are arrested for jumping a fence to reach the temple, prompting a military build-up on both sides.

October 2008
Cross-border fighting causes several casualties among troops on both sides.

April 3, 2009
Heavy new gun battle on the border in which four Thai and Cambodian soldiers are killed.

September 19, 2009
Dozens are wounded as Thai nationalist protesters clash with Thai police and villagers near the temple.

January 24, 2010
Cambodian and Thai troops exchange fire during a speech in the region by a Cambodian government minister.

February 6, 2010
Cambodian Prime Minister Hun Sen and his wife visit the temple, attracting protests on the Thai side.

February 9, 2010
Internet giant Google promises to review a map of Preah Vihear after Cambodia complains it shows nearly half of the temple as being in Thailand.

June 8, 2010
New exchange of cross-border fire.

August 8, 2010
Hun Sen writes to the United Nations accusing Thailand of threatening to use military force, a charge denied by Bangkok.

January 31, 2011
Thailand demands that Cambodia remove its flag from the Keo Sikha Kiri Svara pagoda, which is built in the disputed border area. Cambodia refuses.

February 1, 2011
A Cambodian court hands two Thais, one of them a high-profile nationalist, a lengthy jail sentence for spying and illegally entering Cambodia near the temples.

February 4-7, 2011
Four days of heavy fighting along the disputed border leave at least 10 people dead. Each nation accuses the other of starting the violence.
UN chief Ban Ki-moon calls for "maximum restraint".

February 22, 2011
At an ASEAN meeting in Jakarta, Thailand and Cambodia agree to accept Indonesian observers on a flashpoint section of the border.

March 23, 2011
Thailand's powerful army chief General Prayut Chan-O-Cha says the Indonesian observers are not wanted in the disputed area.

April 22, 2011
Heavy fighting breaks out between Thai and Cambodian troops near a different group of temples more than 150 kilometres away from Preah Vihear.

April 28, 2011:
After more intense fighting, the two sides agree to a fragile truce. At least 15 people have died in the clashes in the space of a week.