Japan on Tuesday said nationalising the beleaguered operator of the stricken Fukushima Daiichi nuclear plant was "an option" but denied it had immediate plans to do so.
Tokyo Electric Power Co. has come under fire for its handling of the crisis, the world's biggest atomic accident since Chernobyl in 1986, and looks likely to face a hefty compensation bill.
"It is naturally possible to hold various discussions on how TEPCO should function" in future, said Koichiro Gemba, minister of national policy, adding that nationalisation was "an option", Kyodo News reported.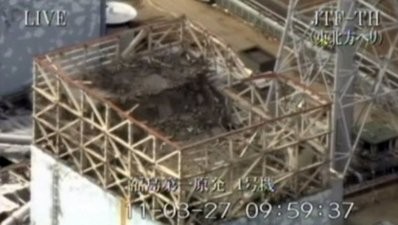 Screengrab taken from a Japanese Ground Self-Defense video on March 27, 2011 shows part of the stricken Fukushima nuclear power plant
Chief Cabinet Secretary Yukio Edano told a separate press conference that the government is "not at the moment considering nationalisation."
However, citing government sources, the Yomiuri Shimbun said Tuesday the government is examining taking a majority stake in TEPCO as well as bearing responsibility for paying liabilities stemming from the nuclear plant crisis.
By taking control of the utility, the government would also be able to help ensure that TEPCO has sufficient capital to maintain stable supplies of electricity, the Yomiuri said.
One of the world's biggest power companies, TEPCO boasts 44.6 million customers -- more than one third of the population of Japan -- in the Kanto region of the main island of Honshu, including Tokyo.
Shares in the firm have plunged 18.67 percent in Tuesday trade as concerns over its ability to manage the nuclear power station crisis continued to unnerve investors.