MOGADISHU, May 23, 2009 (AFP) - Terrified residents fled the Somali capital on Saturday, following a day of fierce fighting between government forces and hardline Islamist rebels that left at least 31 people dead.
Most killed in Friday's exchanges were civilians trapped in the crossfire or claimed by mortars. As soon as things calmed down many inhabitants packed up and left Mogadishu, some on horse carts heading to camps outside the city.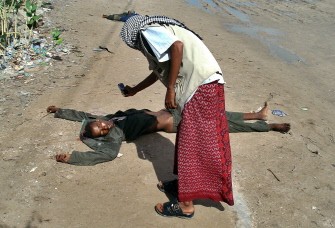 An unidentified Somali man takes a picture of the body of a soldier killed during fierce clashes on May 22, 2009 in Mogadishu (AFP photo)
"The city is quiet this (Saturday) morning and many people are fleeing to avoid upcoming attacks, I think the government is planning a further offensive," said Somali police officer Colonel Mohamed Adan.
A witness, Abdulahi Warsameh, corroborated his information, saying, "Many residents have emptied their houses in (the) Wardhigley (district) because they fear new clashes."
Government forces encountered fierce resistance as they tried unsuccessfully on Friday to drive the Islamist insurgents from the capital.
With President Sharif Sheikh Ahmed holed up in his compound with a handful of supporters and under African Union peacekeepers' protection, his embattled forces attacked insurgents in three positions they had lost in two weeks of fighting that have now killed close to 150 people.
A toll compiled by AFP from medical sources, security officials and witnesses put the number of killed on Friday alone at 29, including a young local journalist.
A resident on Saturday provided new information pushing up the toll. "We found the dead bodies of two civilians in the contested areas; they were caught in the crossfire," said Mubarak Hassan.
Aid agencies said as of Friday afternoon the two weeks of fighting had displaced 49,000 people.
The Somali capital has been ravaged by 18 years of almost uninterrupted civil conflict and emptied of hundreds of thousands of residents by the violent fighting that followed Ethiopia's 2006 invasion.
The Shebab and Hezb al-Islamiya fighters are the main insurgent groups trying to topple Sharif's internationally recognised transitional government.
The rebels launched a fresh round of attacks on May 7 and said they had received the support of foreign fighters.
At a special meeting on Somalia of the African Union's Peace and Security Council in Addis Ababa Friday, the continental body urged the United Nations to slap sanctions on Eritrea.
Asmara is accused of supporting the insurgents and of playing a role in the latest offensive aimed at helping radical Islamist leader Sheikh Hassan Dahir Aweys remove his former ally Sharif from power.
Eritrea hit back on Saturday and said it was actually the African Union itself which was responsible for the mess in Somalia.
"This is an irresponsible resolution by an inept organisation which bears primary responsibility for the current mayhem and crisis in Somalia," the Eritrean foreign affairs ministry said in a statement.
Somalia has not had a central government since the ouster of president Mohamed Siad Barre in 1991 which set off an interminable and bloody cycle of clashes between rival factions.