JAKARTA, Sept 3, 2009 (AFP) - The most-wanted Islamist mastermind allegedly behind deadly July suicide bombings in Jakarta is likely hiding out on Indonesia's main island of Java, a top anti-terror fighter said Thursday.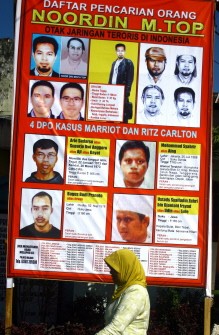 An Indonesian woman walks passing a giant poster about wanted person Malaysian extremist Noordin Mohammed Top and his men in Malang on August 28, 2009 (AFP photo)
Malaysian Noordin Mohammed Top, one of Asia's most-wanted militants, is believed to have chosen to stay on the densely populated island despite a nationwide manhunt, security ministry anti-terror chief Ansyaad Mbai told AFP.
Noordin was believed to have narrowly escaped a massive police raid in Central Java in August.
"We're sure Noordin is in Indonesia, basically in Java," Mbai said.
"Even sometimes he has gone out of Java but he always comes back. Basically there are groups in Java that support him... his favourite place is Central Java."
Noordin, 41, who heads a violent splinter faction of the radical Jemaah Islamiyah (JI) network, is suspected of being behind July 17 double suicide attacks on Jakarta's JW Marriott and Ritz-Carlton hotels.
The bombings, which killed seven people including six foreigners, were the first attack in Indonesia in nearly four years.
Noordin allegedly also masterminded a 2003 attack on the Marriott that killed 12 people, as well as the 2004 bombing of the Australian embassy and 2005 attacks on tourist restaurants on the holiday island of Bali.
Police believe they narrowly missed Noordin in a dramatic televised raid in August on a safehouse in Temanggung, Central Java.
Noordin was initially reported dead at the end of the 17-hour siege but the body later turned out to be that of a florist working in the Marriott and Ritz-Carlton hotel complex who helped plot the attacks from the inside.
Mbai said Noordin's apparent escape -- one of a series after years on the run -- showed there were holes in Indonesia's anti-terror fight.
"I'm disappointed with the less vigilant (approach of authorities)," he said.