Malaysian terror mastermind Noordin Mohammed Top is still at large and was not killed in a raid on the weekend, Indonesian police said Wednesday after the latest near-miss in a six-year manhunt.
DNA tests showed that a militant killed in the raid was not the alleged terror financier and recruiter, one of Asia's most-wanted men, but an accomplice who helped plan the July 17 hotel bombings in Jakarta.
"I announce officially that the war against terrorism has not ended yet," police spokesman Nanan Soekarna told a packed press conference, in a blow to the authorities' efforts to crush Indonesia's most dangerous terror network.
"The dead body is Ibrohim... We tried to match the DNA with the sample from Johor (Noordin's son) and it didn't match."
Ibrohim was a florist who worked at the JW Marriott and Ritz-Carlton hotels, where seven people including foreigners were killed in almost simultaneous suicide attacks last month.
Police released new security camera footage showing a man identified as Ibrohim escorting the Marriott bomber around the hotel on July 8 and later bringing bomb-making material into the hotel's staff-only loading bay.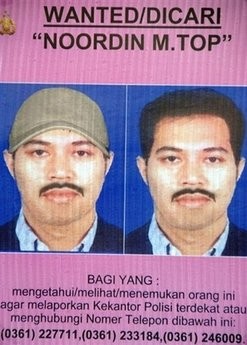 A file wanted poster shows fugitive terror suspect Noordin Mohammed Top
"Ibrohim was a planner who was always present in the meetings with Noordin M. Top," Soekarna said.
"He was going to be a suicide bomber against Cikeas," the home of Indonesian President Susilo Bambang Yudhoyono outside Jakarta, the spokesman added, referring to another plot uncovered by police on Saturday.
Asked whether Noordin had personally planned the hotel attacks, the first bombing against Westerners in Indonesia since 2005, Soekarna said: "Yes he did... He's the mastermind of all this".
Noordin, 41, leads what he calls "Al-Qaeda in the Malay Archipelago", an offshoot of the Jemaah Islamiyah regional terror organisation blamed for the 2002 Bali attacks that killed 202 people, mainly Western tourists.
Police had received a tip-off that the Islamist fanatic was hiding in a farmhouse at Beji village, Central Java, on Friday and launched a massive raid by scores of heavily armed counter-terror police.
Local and international media reported the Malaysian had been killed in a hail of gunfire and explosions during the 17-hour siege, raising hopes that the exhaustive manhunt had come to an end.
But this was never confirmed by police, who used DNA samples from his son in Malaysia to confirm that Noordin was still at large.
He has already escaped two earlier armed assaults on his hideouts, and his legend will only grow among his disciples and on Islamist websites if he has managed to slip away again.
Pressure will also mount on Indonesia's US-trained counter-terrorism forces to track him down before he can do further damage to the country's hard-earned image as a stable and moderate Muslim-majority country.
He has allegedly plotted a series of suicide attacks against prominent Western targets in Indonesia since 2003, including two bombings at the Jakarta Marriott and a massive suicide truck blast at the Australian embassy in 2004.
Soekarna said police had traced Noordin's movements in the weeks ahead of the July 17 attacks, revealing that he had attended planning meetings in Kuningan, Central Java, Bekasi outside Jakarta and Mampang, a Jakarta suburb.
Police killed two would-be suicide bombers and uncovered a massive cache of explosive materials during a raid on a house in Bekasi before dawn on Saturday.
A truck bomb found at the house was going to be used by Ibrohim to attack Yudhoyono's principal residence around Indonesia's Independence Day celebrations on August 17, police said.
Three Noordin accomplices have been arrested and three killed by police in connection with the hotel attacks, but another three to five unidentified suspects were being pursued, Soekarna said.