President Barack Obama vowed Saturday that the United States will never waver in its fight against terrorism as Americans marked the 10th anniversary of the 9/11 attacks under the shadow of another terror threat.
"Ten years ago, ordinary Americans showed us the true meaning of courage when they rushed up those stairwells, into those flames, into that cockpit," the president said in his radio and Internet address.
"We will protect the country we love and pass it safer, stronger and more prosperous to the next generation," he added.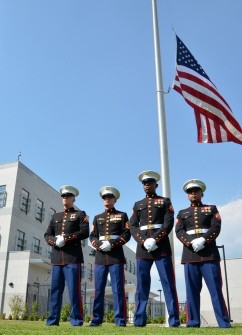 US Marines stand in front of the flag of The United States of America, in front of the US embassy in Sarajevo, on September 9, 2011. In memory of those who lost their lives in September 11, 2001 terrorist attacks on New York and Washington, US flag in Sarajevo was flown at half mast.
Even as US intelligence agencies chased down what officials said was a credible but unconfirmed threat of an Al-Qaeda attack around the September 11 commemorations, Obama assured terrorism would never win.
"Today, America is strong and Al-Qaeda is on the path to defeat," he said.
According to The New York Times, word of the plot was passed to US intelligence officers by an informer based in the border region between Afghanistan and Pakistan on Wednesday.
The informer said two American citizens of Arab ancestry had left Afghanistan, traveled through one or more other countries and reached the United States as recently as last week, the report said.
But the informer's report included only a vague physical description of the two men, the paper said.
One plotter was described as five feet (1.5 meters) tall, the other five-foot eight (1.7 meters), and the first name for one was Suliman, which is common in the Middle East, The Times noted.
The informer also described a third conspirator, but he appeared to have traveled to Europe, the report said.
Former national security advisor Frances Townsend told CNN Friday that US spy networks had been alerted to a new threat after intercepting communications from a known, reliable operative in Pakistan.
"It's Washington or New York. A car bomb, three men. We know that one or two are US citizens," she said, when asked about the specifics of the threat.
"The general outlines of the initial report are three individuals coming into the country" last month, a US official told AFP, confirming the plot had links to militants in Pakistan.
Obama on Friday repeated his order for security agencies to "redouble" efforts to take all necessary precautions, his spokesman Jay Carney said.
But there have been no changes to his plans to attend Sunday's ceremonies on at Ground Zero in New York, and Shanksville, Pennsylvania. A memorial to the victims of United Airlines Flight 93 who died in that Pennsylvania field will be unveiled in a solemn ceremony on Saturday.
Homeland Security Secretary Janet Napolitano called on all Americans to remain vigilant and report anything suspicious, vowing to "protect the American people from an evolving threat picture both in the coming days and beyond."
Somber ceremonies began around the country Friday to mark the 10th anniversary of the September 11 attacks as armed police patrolled New York streets and subways.
Memories remain raw of the day when Al-Qaeda hijackers slammed three passenger planes into the World Trade Center, destroying its iconic Twin Towers, and the Pentagon, in the nation's capital.
A fourth plane crashed in a Pennsylvania field when the passengers valiantly overpowered the hijackers. Almost 3,000 people were killed that day in the worst attacks on American soil.
In New York, heavily armed police patrolled the busy streets, trucks and cars were stopped and inspected at vehicle checkpoints and bomb-sniffing dogs scoured the subway.
"I would say that people should be alert. I don't think anybody should be panicked," Senator Joe Lieberman, chairman of the Senate Homeland Security Committee, told CNN.
The decision to go public with the information was "important because it alerts everybody to be on guard this weekend. And be careful," he added.
ABC television said the latest plot was ordered by Al-Qaeda's new leader Ayman al-Zawahiri, who has vowed to avenge the death of Osama bin Laden in a US raid on his Pakistani compound in May.
Former vice president Dick Cheney meanwhile defended the previous administration's "war on terror" launched after the attacks, and the use of tough interrogation techniques -- denounced as torture by rights groups.
"Three people were waterboarded, not dozens, not hundreds, three," he said, insisting the interrogations provided valuable counter-terrorism information and had made the nation safer.
America's response to 9/11 showed that when attacked, "we will come and get you," Defense Secretary Leon Panetta warned Friday as he thanked the firefighters and emergency teams who rushed to the Pentagon after it was struck.
"The people who attacked us on 9/11 were trying to weaken America, trying to hurt America. And instead they strengthened us," Panetta said. "Because you don't mess with this country."
Former president George W. Bush will lay a wreath at the Pentagon in a private ceremony on Saturday and is also due to attend Sunday's ceremonies.