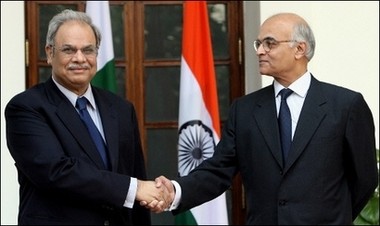 Indian Foreign Secretary Shiv Shankar Menon (R) with his Pakistani counterpart Riaz Mohammed Khan in New Delhi
Nuclear-armed India and Pakistan are taking a fresh stab at peace talks under a cloud of allegations and denials over Islamabad's alleged support for cross-border terrorism.
Indian Foreign Secretary Shiv Shankar Menon shook hands with his Pakistani counterpart Riaz Mohammed Khan before sitting down to the negotiations, on hold since train bombings in Mumbai in July killed 186 people and wounded more than 800.
"Terrorism is an important issue on the agenda," a senior Indian official said ahead of the meeting. "New Delhi wants to see Pakistan make progress in implementing its commitment to end terrorism directed against India."
India blames Pakistan's shadowy spy agency, Inter-Services Intelligence (ISI), for the July 11 blasts as well as attacks in the disputed region of Kashmir, which is divided between the two but claimed in full by both. Islamabad denies the allegations.
The two sides, which have fought three wars since their independence from Britain in 1947, agreed to set up an anti-terror mechanism when Indian Prime Minister Manmohan Singh and Pakistan's President Pervez Musharraf met in September in Cuba.
"They will surely discuss the mechanism. India is likely to provide part of the evidence of Pakistan's involvement in bombings," said Sukh Deo Muni, former professor of South Asian Studies at New Delhi's Jawaharlal Nehru University.
The Indian Express newspaper, however, said Tuesday the Mumbai bombing case would not be on the agenda because India had "little yet in terms of concrete evidence" against Pakistan.
Pakistan's foreign secretary said he expected "constructive" talks.
"I am looking forward to very constructive discussions with (the Indian) foreign secretary," Riaz Mohammad Khan told reporters Monday on his arrival in New Delhi.
Foreign Minister Pranab Mukherjee said last week India would ask Pakistan to honour previous commitments to halt militant attacks on Indian soil.
"Terrorism is an important issue because earlier talks were suspended because of public outrage after the Mumbai blasts," Mukherjee said.
"I would like them to stick to assurances (to check militants) which they have given."
Analysts warned against expecting a breakthrough but said the South Asian neighbours, who conducted tit-for-tat nuclear tests in 1998, must not desert the peace process launched in 2004.
"The greater success lies in the fact that these talks should have a regularity that is predictable," said C. Uday Bhaskar of the government-funded Institute for Defence Studies and Analysis.
"The main question is not whether the joint terror mechanism will deliver. It is about India's ability to construct a framework of risks and rewards to Pakistan on cross-border terrorism," strategic affairs editor C. Raja Mohan wrote in the Indian Express newspaper.
The officials were also expected to discuss the proposed demilitarisation of the Siachen glacier -- the world's highest battlefield in the disputed Kashmir region -- and the demarcation of a contested marsh on India's western border.
Pakistan's Foreign Minister Khurshid Mehmood Kasuri said Monday that a deal on the Siachen was possible "within days".
"Given the political will, we have narrowed down our differences enough for us to have a decision on Siachen within a matter of days, not weeks," he told private NDTV network Monday.
There was no immediate comment from India, which has held strategic peaks on the 6,300-metre (20,700-foot) glacier since 1987 and has refused to withdraw troops.
India wants troop positions marked out, in case Pakistan moves its soldiers in after a withdrawal. Islamabad, however, fears that writing down the positions would be tacit acceptance of India's claims to Siachen.