BANGKOK, Nov 29 (AFP) - Defiant protesters ignored orders to leave Bangkok's besieged airports and faced off with Thai police on Saturday, raising fears of clashes as crippling anti-government demonstrations escalated.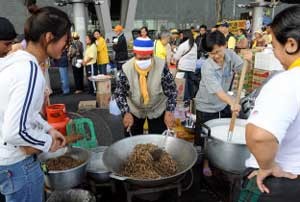 Protesters cook food to feed the ranks of supporters at the Suvarnabhumi airport in Bangkok on Nov. 29. Anti-government protesters ignored orders to leave the airport and faced off with Thai police (Photo:AFP)
Tensions mounted with Thai television showing angry demonstrators arguing with police on a road to the main Suvarnabhumi airport as officers tried to set up a checkpoint to stop more people flocking to the protest site.
Despite Prime Minister Somchai Wongsawat's declaration of emergency rule at the airports on Wednesday, protesters trying to topple his elected government remain entrenched, barricading themselves in with barbed wire and tires.
"If we have to die today, I am willing to die. This is a fight for dignity," said Sondhi Limthongkul, the founder of the People's Alliance for Democracy protest movement, said on his private television station.
Police said they had given formal warnings overnight to protesters at both Suvarnabhumi international airport and the smaller, domestic Don Mueang airport to leave immediately or face action to evict them.
"Police have already issued two warnings since last night (Friday) to ask them to leave," Major General Piya Sorntrakoon, deputy commander of Thailand's central region, told AFP.
At Suvarnabhumi, demonstrators headed inside as rumors of a police raid circulated. Protesters set up a medical corner to treat anyone injured if clashes broke out, while water and other supplies were stacked up.
Some women carried pink helmets, readying themselves for any action. Children are also among the crowd.
Suvarnabhumi has been shuttered since late Tuesday, and every day the siege continues, 30,000 more passengers miss flights and the kingdom loses seven million dollars in tourism revenue, ministers and officials have said.
The army chief has said he does not want to remove the protesters for fear of bloody clashes, and on Wednesday urged Somchai to dissolve parliament and hold new elections -- calls the premier promptly rejected.
In signs of further rifts between the government and security forces, Somchai on Friday removed national police chief General Patcharawat Wongsuwan, as police failed to take action after the emergency rule order.
The protesters are calling for the resignation of the government elected in December, saying it is running Thailand on behalf of former premier Thaksin Shinawatra, who was ousted in a coup in 2006 and is banned from politics.
The government said it tried to start negotiations with the PAD, but protest leaders have so far rebuffed the overtures, and say they will stay remain at the airports until the resignation of Somchai -- Thaksin's brother-in-law.
A police officer estimated Saturday that 3,000 protesters were camped out at Suvarnabhumi, about 1,000 were at Don Mueang, and only 700 remained at the premier's Government House offices.
Numbers are expected to swell over the weekend.
The PAD, a loose coalition with the backing of elements in the military, the palace and the urban middle classes, began its campaign in late May.
Protests have steadily escalated, with the PAD seizing Government House in late August. On October 7, two protesters were killed and 500 people injured as PAD supporters and police clashed outside parliament.
The leaders called for a "final battle" against the government on Sunday and have since caused the biggest disruption since the anti-Thaksin coup, although their airport-blocking tactics have alienated some supporters.
Government spokesman Suparat Nakbunnam has said Somchai will remain in the northern city of Chiang Mai indefinitely, a pro-government stronghold, "as there are still uncertainties in the tensions between the government and army."