BANGKOK, Nov 28, 2008 (AFP) - Protesters occupying Bangkok's main airports vowed Friday to "fight to the death," as police said they would negotiate with the demonstrators before trying to evict them under emergency laws.
Embattled Prime Minister Somchai Wongsawat had imposed a state of emergency around the airports on Thursday night but security forces feared a raid could spark a bloody confrontation with the anti-government activists.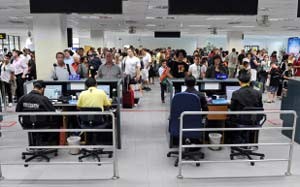 Passengers wait in queues at immigration counters upon arrival at the Phuket International Airport in southern Thailand on Nov. 28. Protesters occupying Bangkok's airports vowed to "fight to the death" (Photo: AFP)
Airlines began flying stranded air travelers out from a naval base Friday, but tens of thousands of passengers are believed to have missed flights after four days of unrest that have badly hit Thailand's tourist industry.
"We are not afraid. We will fight to the death, we will not surrender and we are ready," one of the main protest leaders, Somsak Kosaisuk, told a crowd of supporters at the domestic Don Mueang airport.
Anti-government activists braced for an assault overnight, extending razor wire cordons to about three kilometers (two miles) around the flagship Suvarnabhumi international airport and blocking access roads, witnesses said.
Police say around 4,000 protesters from the People's Alliance for Democracy (PAD) -- a movement backed by elements of the palace, the army and Thailand's Bangkok-based elite -- are occupying Suvarnabhumi for a fourth day.
Another 2,500 are at Don Mueang, where the cabinet's temporary offices have been located since protesters seized their headquarters at Government House in Bangkok in August, calling for the government to resign.
Somchai's attempts to assert his authority by declaring emergency rule and authorizing action to clear the airports were apparently undermined by the police announcement of further talks with the protesters.
"We will use the gentle way first. The priority is to negotiate and not crack down immediately -- we are all Thais," regional deputy police commander Major General Piya Sorntrakoon told AFP.
The army has already said it is opposed to the use of force against the protesters, stoking tensions between the government and the military in a nation that has seen 18 coups since the end of absolute monarchy in 1932.
The PAD have vowed not to quit until Somchai resigns, alleging that their arch-foe, exiled former premier Thaksin Shinawatra -- who was ousted in a 2006 coup -- is the puppet master behind the government elected in December.
The military denied rumors on Thursday that it was planning to launch a similar putsch, following reports that Somchai was about to sack the powerful army chief for calling for the dissolution of the government.
Yet in a further sign of the civilian-military rift, government spokesman Suparat Nakbunnam said Somchai would remain in Chiang Mai "indefinitely."
"As there are still uncertainties in the tensions between the government and army, for his safety the prime minister will stay in Chiang Mai," he said.
With the crisis affecting Thailand's ties with the rest of the world, the secretary general of Southeast Asian bloc ASEAN travelled to Thailand to assess whether a summit scheduled for December in Chiang Mai can proceed.
Airlines meanwhile struggled to get even a handful of passengers out of the U-Tapao naval base about 190 kilometers (118 miles) southeast of Bangkok -- a low-tech, one-runway airfield built by US forces during the Vietnam War.
"Around 40 flights are going to fly in and out of U-Tapao today (Friday)," said an official at the Department of Civil Aviation.
"Yesterday there were only half that number, around 20 flights, because most airlines did not know that U-Tapao has been opened."
The Ministry of Tourism called a crisis meeting Friday attended by airport officials and representatives from 50 airlines to try to map out a strategy for getting people in and out of the kingdom.