BANGKOK, Nov 24, 2008 (AFP) - Thousands of Thai protesters marched on parliament and other key buildings Monday in what they called a final battle against the government, forcing lawmakers to cancel an important sitting.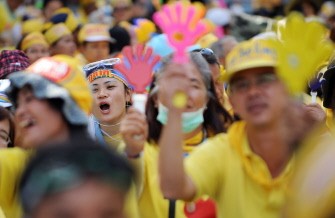 Thai anti-government protesters wave hand-clappers during a protest outside the parliament building in Bangkok on Nov. 24 (Photo: AFP)
Flag-waving demonstrators left from the prime minister's cabinet offices -- which they have been occupying since late August -- and fanned out through Bangkok's historic district in a bid to paralyze the legislature.
Two busloads of protesters also arrived at an abandoned air terminal where Premier Somchai Wongsawat and his cabinet have set up a makeshift base, with security guards letting them through in an attempt to avoid a clash.
Police said about 18,000 people from the anti-government People's Alliance for Democracy (PAD) took part across Bangkok. Some demonstrators wore goggles and masks as protection from tear gas.
House speaker Chai Chidchob called for calm and announced the postponement of a joint parliamentary session which was supposed to consider legislation on a major regional summit being held in Thailand in December.
"I ask for all sides to stop the movement now. If you love the king, please return home," he said on parliament radio, adding that the sitting was called off because elected MPs and senators could not enter the building.
The PAD has led a six-month campaign aiming to topple the government elected in December, accusing it of being a proxy of exiled former PM Thaksin Shinawatra, who was ousted in a bloodless coup in 2006.
Thaksin fled the country in August this year but a power battle is raging between those who support the billionaire and the old power elite in the military, palace and bureaucracy who want to purge Thailand of his influence.
A sea of protesters dressed in yellow shirts and headbands which symbolize loyalty to the monarchy marched through the government district Monday, many waving national flags and portraits of deeply-revered King Bhumibol Adulyadej.
Black-clad volunteer PAD security guards wielding homemade batons protected the crowd.
About 2,000 police armed with shields were on duty to try to prevent a repeat of bloody street battles outside parliament on October 7 that left two protesters dead and nearly 500 people injured, officials have said.
One group of protesters moved from parliament to the finance ministry, while another group broke down a blockade on a road in front of the Bangkok Metropolitan Police headquarters, Thai television showed.
Most demonstrators later left parliament but dozens then drove in buses to Don Mueang airport on the outskirts of Bangkok, where premier Somchai -- Thaksin's brother-in-law -- has set up temporary offices, AFP reporters said.
"The government are having a special cabinet meeting. Wherever they meet we will go," Somsak Kosaisuk, a key leader of the PAD, told the crowds outside parliament.
PAD co-founder Sondhi Limthongkul told AFP earlier that they could call on the crowds to besiege other locations including the stock exchange in their self-proclaimed "final battle" against the government.
Three small blasts hit near Sondhi's Bangkok offices early Monday, causing minor damage but no injuries.
The PAD occupied Government House after massive rallies in late August. It launched its anti-government campaign in May and has called for Thailand's electoral system to be changed to include non-elected members.
The alliance called for supporters to march on Monday to avenge the death of an activist in a grenade attack at the protest site last week.
PAD leaders accuse the government of being behind that attack, which also injured 29 protesters, as well as a similar explosion that killed one more protester and injured seven on Saturday.
Somchai, who is currently in Peru for the APEC meeting of Asia-Pacific leaders, has denied any involvement and vowed an investigation into the violence.