Thailand's army warned Red Shirt anti-government protesters Thursday that "time is running out" to leave their rally site in Bangkok's commercial heart before a likely crackdown.
But the mostly poor and rural Reds, who have paralysed an area of the capital that is home to five-star hotels and major shopping centres, remained defiant and ruled out talks with the authorities until the military withdraws.
Tensions remained high in Bangkok after overnight scuffles between the red-shirted demonstrators, who are seeking immediate elections, and hundreds of rival pro-government protesters calling for the Reds to go home.
The supporters of Prime Minister Abhisit Vejjajiva, who include local residents and business owners, confronted the Reds and threw bottles, while some of the anti-government protesters hurled stones, bottles and firecrackers.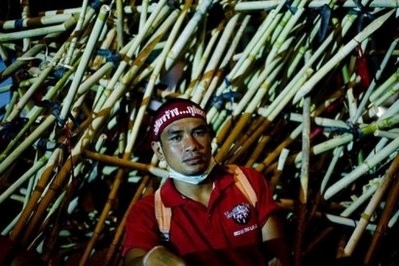 Red Shirt anti-government protester pictured next to bamboo barricades set up in Bangkok's financial district, during a protest on April 21.
One foreign tourist was reported to have been slightly injured.
The red-clad movement has ruled out immediate talks with the government, despite the threat of "decisive" action by the army.
"We don't want you to risk your lives. If there is a clash you could be hurt by stray bullets," said army spokesman Sunsern Kaewkumnerd. "Your time is running out. Please leave the area."
Sunsern said there were currently 6,000 of the red-shirted protesters at the site, down from 14,000 Wednesday evening.
But there was no air of compromise as the protesters dug in, following street clashes in Bangkok earlier this month that left 25 people dead.
The Reds have fortified their rally base in central Bangkok with home-made barricades made from bamboo poles and piles of car tyres.
"When there are guns pointed at our heads, we cannot talk," said a Reds leader, Weng Tojirakarn. "The easiest way (to resolve the crisis) is to dissolve parliament and then we will all go home."
Piles of sharpened bamboo sticks and broken paving stones have been stockpiled, triggering fears of new confrontations with security forces who are threatening to use tear gas and live fire if necessary.
The Reds are seeking immediate elections to replace the government, which it accuses of being elitist and undemocratic.
The United States urged both sides to seek a peaceful resolution to the weeks-long crisis, which has shut down the Thai capital's retail and hotel heartland, worsening the damage to the economy of the tourist destination.
"We would continue to encourage both sides to work out their disagreements peacefully," State Department spokesman Philip Crowley said. "We don't believe that violence in any shape or form is a solution to this political challenge."
Hundreds of members of the security forces and Red Shirts are now facing off at the perimeter of two zones in central Bangkok, separated by a long stretch of the makeshift barricade.
The political crisis has spread to the rural northeast, where protesters have blockaded a military train and forced busloads of troops to return to their bases.
Government spokesman Panitan Wattanayagorn said that although negotiations were the best way out of the crisis, there was little chance the two sides would sit down together.
"There have been several attempts to connect with the Red Shirts. I'm sure you are fully aware how difficult it is to talk to them in a unified manner," he said.
Talks last month ended in failure after Abhisit's offer of elections at the end of the year was rejected by the Reds, who insist on immediate polls.
The protesters are mainly supporters of former premier Thaksin Shinawatra, who was ousted in a 2006 coup and is living in exile to avoid a jail sentence for corruption.
The Reds say Abhisit's government is illegitimate because it came to power in a parliamentary vote at the end of 2008 after a court ruling removed Thaksin's allies from office.