BANGKOK (AFP) – Thailand's government pulled the plug Thursday on the television channel of "Red Shirt" protesters who have occupied Bangkok's commercial heartland, defying a state of emergency in the capital.
Prime Minister Abhisit Vejjajiva is under increasing pressure to end the mass anti-government rallies, which have disrupted traffic and caused major shopping centres to close.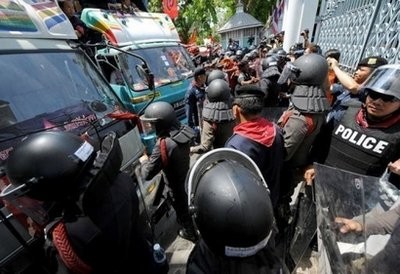 Red-shirted supporters of ousted premier Thaksin Shinawatra clash with riot police during anti-government protests in Bangkok. AFP photo
Abhisit cancelled his attendance at a Southeast Asian summit in Hanoi, where fellow premiers expressed concern about Thailand's deep political rift, which pits Bangkok's ruling elite against the mainly poor and rural Reds.
Leaders of the tens of thousands of supporters of fugitive former premier Thaksin Shinawatra have warned they are ready for "war" but the authorities have avoided using force to break up the demonstrations.
Instead the government set its sights on media loyal to the red-clad movement, shutting down its satellite TV channel providing rolling coverage of the rallies, and vowing to clamp down on pro-Red radio stations.
It accused the Reds' TV of distorting information and inciting unrest, warning that the next step would be a ban on the use of loudspeakers at the protest site, where there was an angry response.
"It is an evil measure by a dictator government," said Reds leader Nattawut Saikuar from the rally stage.
"The government wrongly thinks that cutting the signal will stop Reds from gathering. We give final word to the government to connect our signal within today, otherwise people will fight for their rights."
The Reds say the government is illegitimate because it came to power with army backing through a parliamentary vote in December 2008 after a court decision ousted Thaksin's allies from power.
The Reds have promised another big gathering on Friday, extending more than three weeks of rolling rallies that attracted 100,000 people at their peak.
Abhisit's government has banned public gatherings of more than five people and given broad powers to police and military under emergency rule announced Wednesday in the capital and surrounding areas.
Tensions have escalated after the Reds forced their way into the parliamentary compound briefly on Wednesday, prompting lawmakers to flee and several senior government figures to be airlifted to safety.
The head office of the Reds' arch-rivals, the royalist "Yellow Shirts", was targeted on Thursday with a grenade and gunfire that wounded one policeman, a day after a grenade was reportedly fired into the army headquarters.
The followers of Thaksin, a billionaire telecoms tycoon who lives abroad to avoid a jail term for corruption, fervently support the populist policies he introduced before his ouster in a 2006 coup.
The military has mounted a heavy security response, deploying 50,000 personnel at one point to try to contain the protests, which drew as many as 100,000 people on March 14.
The government wants to avoid a repeat of last April's clashes with Red Shirts that left two people dead, six months after riot police took on the rival Yellow Shirts in bloody scenes outside parliament.
"We will not seek confrontation. We do not want to create conditions for instability," said government spokesman Panitan Wattanayagorn. "At the same time we would like to proceed further with the implementation of the law."
Under emergency rule, "now officers can destroy the cars that block intersections and they will not have to pay for it," he told reporters.
Red-shirted supporters of ousted premier Thaksin Shinawatra clash with riot police during anti-government protests in Bangkok.