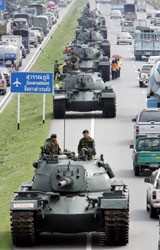 A column of tanks guard a highway in suburban Bangkok, September 21, 2006 (AFP Photo)
The Thai Airways jet that ousted prime minister Thaksin Shinawatra took to New York was forced to land Thursday at Bangkok's military airport and was searched by army commandos, officials and witnesses said.
Thailand's military ousted Thaksin late Tuesday in a bloodless coup while he was attending the UN General Assembly.
The billionaire politician flew to London, where he has a home, and the plane then returned to Bangkok with the press corps and some low-ranking officials who had travelled with him.
One of Thaksin's aides on the plane said the heavily armed commandos were searching the plane to make sure the deposed premier was not trying to sneak back into the country.
"The commandos are not questioning anybody but they have conducted a thorough search," one of the journalists said.
The flight was supposed to land at Bangkok's commercial airport at 12:40 pm (0540 GMT), but it was diverted to the nearby military airport where 10 commandos inspected the plane.
About 20 journalists and officials were on the flight, but top members of Thaksin's cabinet -- including foreign minister Kantathi Suphamongkhon and government spokesman Surapong Suebwonglee -- did not return to Bangkok.
Officials said Kantathi had gone to Paris, where he has an apartment, while Surapong stayed in New York.
Source: AFP
Related Articles:
Thailand's Former Premier Thaksin Shinawatra Would Not Try to Cling to Power?
Thai Coup Leader Says He'll Be Acting PM
Thai Coup Leader Says New Premier to Be Named within Two Weeks
Thai Coup Leaders Slap Strict Controls on Media
Thai Coup Affects Asian Currencies
Annan, World Leaders Urge Return to Democracy in Thailand