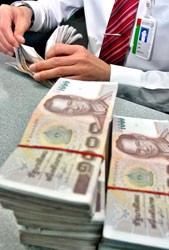 Thai military coup sparked selling in the Thai baht in world markets and quickly spread to other Asian and Latin American currencies as the news caused investors to curb their appetite for risky assets (AFP Photo)
The Thai baht plunged in an early sell-off after the military seized control of Bangkok while Prime Minister Thaksin Shinawatra was in the United States but it seemed likely the losses would be limited unless events turned violent.
Satoru Ogasawara, a strategist of global foreign exchange research at Credit Suisse First Boston, said the political unrest in Thailand was affecting not only the baht but also other Asian currencies.
At the same time, Asian currency trading has some tolerance to volatility due to the experience in the regional financial crisis in 1997, he said.
The dollar was at 117.36 yen in Tokyo morning trade, down from 117.71 in New York late Tuesday.
The euro was almost flat at 1.2678 dollars from 1.2675 but it fell to 148.74 yen after 149.23 in New York.
"There was dollar-selling in the market by domestic exporters and other institutional investors," said Kazuyuki Kato, treasury department manager at Mizuho Trust and Banking.
"They would like to square their positions before the Japanese results season starts from the end of this month. Also some did so ahead of the Federal Reserve's meeting," he said.
Weaker-than-expected US housing starts and inflation data, which further reduced the chances of the Federal Reserve hiking rates again, were also weighing on the US currency, he added.
"The dollar could fall further on recent softer data but the currency's bottom was supported as investors returned to buying the dollar for risk aversion," he said.
The market widely expects the Fed to keep interest rates unchanged at 5.25 percent but they will be looking for clues on future moves by the central bank in the accompanying statement.
"The market has already priced in that the Fed would lower its interest rate sometime next year and they foresee dollar-selling movement after the meeting," Kato said.
"If the accompanying statement indicates worries over inflation despite recent weak economic data, the market is expected to step in to buy the dollar," he said.
Source: AFP
Related Article:
Annan, World Leaders Urge Return to Democracy in Thailand