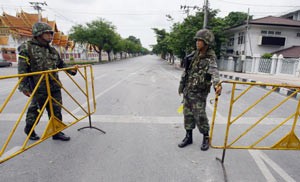 Soldiers close a road as they stand guard at a roadblock outside a heavily guarded government office in Bangkok September 20, 2006, following a military coup (AFP Photo)
Thailand's army chief and coup leader General Sonthi Boonyaratglin said Wednesday that a new prime minister will be named within two weeks.
"An interim constitution will be drafted within two weeks, and during that time a new national assembly will be appointed, and a new prime minister will be appointed," Sonthi told reporters at his first press briefing since seizing power overnight.
"The next general election will hopefully take place in October next year," he added.
The New Developments
Coup leaders in Thailand have sealed the country's northern border with Laos and Myanmar, a senior army officer said Wednesday following an overnight military power grab in Bangkok.

Hours after ousting Prime Minister Thaksin Shinawatra in a bloodless coup, military commanders tightened their grip over the country, imposing media restrictions and other bans in what they said was a bid to prevent unrest.

Thailand's southern border with Malaysia remained open, according to officials, while airports continued to operate normally.

Thailand's coup leader, General Sonthi Boonyaratglin, will later Wednesday meet with foreign diplomats to outline the military council's policies, an army spokesman confirmed.

Bangkok's notoriously congested streets were unusually quiet and commuter trains were empty Wednesday, as heavily-armed Thai soldiers wearing yellow sashes patrolled key intersections
Source: AFP
Related Articles:
Thai Coup Leaders Slap Strict Controls on Media
Thai Coup Affects Asian Currencies
Annan, World Leaders Urge Return to Democracy in Thailand