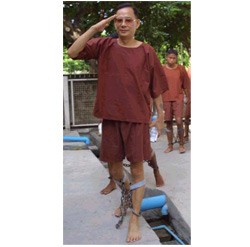 Ly Tong is walking in chain from the court house.
Requested by the Vietnamese government, a criminal court will be held in Bangkok, Thailand on July 24, 2006 to consider extraditing Ly Tong, an U.S. citizen and a former South Vietnamese fighter pilot, to Viet Nam for trial.
Ly Tong was convicted by a Thai court on October, 2003 and sentenced to seven years and a half in prison for illegally immigrating to Thailand and hijacking a training airplane in November 2000. He then ordered the pilot to fly him into Vietnam to drop the reactionary leaflets.
He was released on May 17, 2006, but immediately arrested again by the Thai government according to the extradition request from Vietnam, where he is wanted for threatening the national security by calling for anti-government movement.
The court on July 24 will consider whether Ly Tong's case is criminal or politic violation according to the Thai laws. If Ly Tong is charged with criminal violation, he will face with possibility of extradition to Viet Nam. According to the Thai law, the court will have a hearing for Ly Tong on August 7.