BANGKOK, Aug 22, 2011 (AFP) - Thailand's economy contracted 0.2 percent in the second quarter as parts shortages caused by Japan's massive earthquake led to a sharp slowdown in exports, government data showed Monday.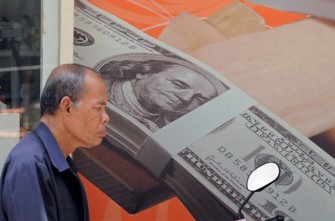 AFP - A pedestrian walks past a poster of US banknotes displayed at currency exchange shop in Bangkok on August 22, 2011
On a year-on-year basis, economic growth weakened to 2.6 percent, from a revised figure of 3.2 percent in the first quarter, the National Economic and Social Development Board (NESDB) reported.
"The slower growth in the second quarter was due to a contraction in the industrial sector because of the earthquake and tsunami in Japan, while total investment slowed," said NESDB secretary-general Arkom Termpitayapaisit.
Gross domestic product (GDP) had expanded by 2.0 percent in first quarter from the previous three-month period -- the quickest pace in a year.
Export growth slowed to 19.2 percent in the second quarter, from 27.4 percent growth in the first.
Japan's March 11 twin natural disasters led to supply disruptions in Thailand, particularly at local plants operated by Japanese carmakers.
The NESDB revised its 2011 growth forecast for the Thai economy to a range of 3.5-4.0 percent, from 3.5-4.5 percent previously, blaming the economic woes of the United States and Europe.
Thailand, whose economy rebounded strongly from political violence last year, has raised its key interest rate by 200 basis points since July 2010 to tame inflation. Monetary policymakers are due to meet again on Wednesday.