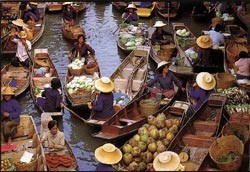 Floating market in Thailand
Thailand's economic growth forecast could be further cut if elections slated for October are delayed by more than one month, the government's financial think-tank warned Tuesday.
The country has experienced political deadlock since snap polls called in April to elect a new government were invalidated, forcing another election.
The announcement that the new vote, scheduled for October 15, would be delayed has thrown Thailand's economy deeper into crisis, National Economic and Social Development Board (NESDB) chief Ampon Kittiampon said.
"If political jitters cause the poll to be delayed by one to two months, economic growth would be definitely affected," Ampon told reporters.
"Such an incident would hurt investors' confidence in Thailand and we might have to revise the growth targets again for this year and 2007," he said, without saying by how much growth estimates would be cut.
The NESDB last week revised down its 2006 economic growth forecast to 4.2-4.7 percent from an earlier estimate of 4.2-4.9 percent, citing high oil prices and growing political uncertainties.
Thailand's top election body will meet Thursday to work out a new election date but some observers have said the polls could be pushed back until the end of the year.
Prime Minister Thaksin Shinawatra's ruling party won the April vote, which was boycotted by the other major parties amid allegations of corruption and abuse of power leveled against the premier. These polls were then invalidated, leaving the country in political limbo.
Thailand remains without a government as it wades through a raft of complicated electoral regulations to get the new polls in place.

Source: AFP