BANGKOK, Nov 4, 2010 (AFP) - The death toll from Thailand's crippling floods has risen to over 120, officials said Thursday, after the weeks-long crisis spread south and affected tens of thousands more people, including tourists.
Rising waters began to inundate the southern region late Monday after days of heavy downpours, leaving eight dead in Songkhla province, two in Pattani and one each in Satun and Surat Thani provinces.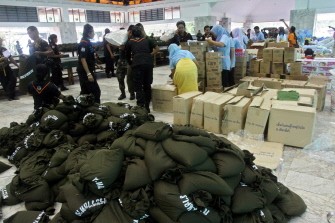 Thai government officers and soldiers pack relief goods donated by the Thai Royal Palace for victims of flooding in the southern city of Hat Yai, in Thailand's southern province of Narathiwat on November 4, 2010. AFP
Thousands of soldiers have been dispatched to the area to help people stranded in their homes after flash floods swept through Hat Yai, a city of more than 150,000 people.
A further three people were also killed in northern areas, where the flooding began on October 10, bringing the nationwide toll to 122, the Department of Disaster Prevention and Mitigation said.
So far more than six million people have been affected, with homes submerged and farmland or cattle destroyed, in what Prime Minister Abhisit Vejjajiva has described as "a huge natural calamity".
Waters have receded in most parts of Hat Yai, a city popular with tourists from Singapore and Malaysia.
But more than 100 foreign visitors remained stranded in their hotels early Thursday, according to the Tourism Authority of Thailand.
The government has sent two naval ships to the southern region to provide medical and logistical support for the relief operation.
On Wednesday marine police boats rescued about 100 Thai and foreign tourists from Koh Tao, a popular holiday island in Surat Thani, after they were stranded for half a day, local tourist official Panu Woramit said.
Nearby Koh Samui airport was operating again normally after a closure due to the bad weather, he added.
Fifty of Thailand's 76 provinces have been affected by the floods but the high waters have subsided in 19 of these, officials said. Bangkok has been on standby but has so far avoided major flooding.