JAKARTA, April 29, 2010 (AFP) - Thailand on Thursday warned the international community not to meddle in its political affairs as anti-government Red Shirts called for EU observers on the streets of Bangkok.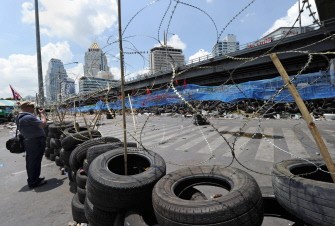 A foreign reporter takes pictures of a barricade made of used truck tyres and sharpened bamboo sticks inside the anti-government Red Shirt protesters' fortified camp in the financial central district of downtown Bangkok on April 29, 2010. AFP photo
Foreign Minister Kasit Piromya told reporters after meeting his Indonesian counterpart, Marty Natalegawa, that the Thai government was "in control" of the situation and did not need foreign assistance.
"There is no need for international intervention at this point in time," Kasit told a press conference when asked if Thailand needed outside help to deal with its political turmoil.
"I think we're very much in control of the situation and it's still very much an internal affair of Thailand."
Red Shirt leaders on Thursday made a further attempt to broaden the month-long dispute that has several times erupted in violence, killing 27 people and injuring almost 1,000 in Bangkok.
The movement -- which wants immediate elections -- released a letter it planned to submit to EU ambassador David Lipman making an "urgent request" for Europe to send monitors to Bangkok to prevent another crackdown.
The planned letter followed an invitation issued by Red leaders to Bangkok's diplomatic community asking them to visit the sprawling protest last week.
Kasit said his government had been "concerned" that some diplomats had taken up the offer, although he did not specify who.
"We do not want to see that happen again," he said.
"We're trying to solve the problem within the confines of the rules of law, and trying to avoid the use of force and trying to talk to the protesters for them of course to come to the negotiating table and... disarm," Kasit said.
He said he was visiting Indonesia, a fellow founding member of the Association of Southeast Asian Nations (ASEAN), to express his government's thanks for Jakarta's expressions of concern.
He also wanted to give a first-hand report of the situation and outline the steps the government plans to take to end the crisis.
"There's no need for ASEAN help but the expressions of concern by each ASEAN country we fully appreciate.
"We are a functioning government. We are in a position to handle the situation," he said.
Kasit is expected to meet Indonesian President Susilo Bambang Yudhoyono during his visit.