Thai security forces fired warning shots Wednesday during a confrontation with anti-government protesters in the north of Bangkok, which is reeling from weeks of sometimes violent unrest.
The standoff, which followed a period of relative calm in the city, came as about 900 soldiers and police officers blocked "Red Shirt" protesters who had left their fortified rally base in central Bangkok in a large convoy.
"Security force so far fired warning shots," said police spokesman Major General Prawut Thavornsiri. "There's a confrontation but no clashes yet."
Thai media reported rubber bullets were fired during the face-off near the Talad Thai market.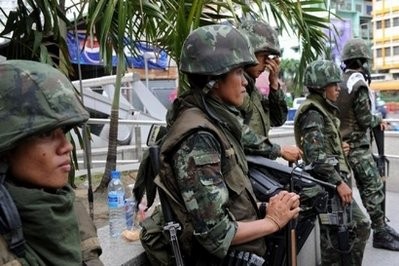 Thai soldiers guard the entrance to a Skytrain station in Bangkok. Security forces in the capital city have fired warning shots during a confrontation with anti-government protesters, a police spokesman has said
About 2,000 protesters in 200 pick-up trucks and on 500 motorbikes had earlier left their sprawling site, which has been bolstered with barricades made from truck tyres and bamboo stakes, to travel to the north of the capital.
"Red Shirts agreed to send an operation unit to carry out activities outside the rally site in peace and non-violence," protest leader Nattawut Saikuar told reporters.
He said the Reds, who are campaigning for immediate elections to oust the government, would go to an area where armed troops dispersed and arrested Reds on Monday for attempting to block security forces bound for the capital.
"We will offer moral support to the residents," Nattawut said. "We will go to meet and talk to people along the route."
Army spokesman Sunsern Kaewkumnerd said Tuesday that security forces were ready and waiting "for the right time" to retake the Reds' rally area, which has paralysed a chunk of Bangkok's central commercial district.
"We are ready to fight to the death so why not we set the date for crackdown," Nattawut challenged.
Armed soldiers continue to guard the capital, which is under a state of emergency and has been rocked by the worst political unrest for almost two decades, with 26 people killed and almost 1,000 injured this month.
Sunsern has previously warned protesters they could face real bullets in any crackdown and said troops had set up checkpoints to prevent people bringing in weapons to the confrontation zone.
But embattled Prime Minister Abhisit Vejjajiva struck a moderate note in an interview with the BBC Tuesday, saying he would step down if he believed he were an obstacle to stability.
He said the issues were "not a purely political problem. There are security problems involved, there are terrorist problems involved", adding that there was no imminent likelihood of martial law being declared.
Abhisit has rejected an offer by the Reds to disperse if elections are held in three months' time.
Bangkok's Skytrain was halted for several hours Tuesday after Reds laid tyres on the rails at a station above the protest site to stop troops using it for a possible surprise attack, disrupting the morning rush hour commute.
The government has said it has uncovered a network of people suspected of plotting to overthrow the kingdom's revered monarchy and will issue summons and possibly arrest warrants for alleged members.
On Tuesday, the day after the king spoke of the need for peace in his first public remarks since the crisis began, Reds denied involvement in any attempt to undermine the royals and threatened to sue the government over the accusation.
Strict legal provisions in Thai law can land anyone guilty of insulting the royal institution with up to 15 years in prison.
Early Wednesday morning two grenade attacks hit a Bangkok bank and military checkpoint -- the latest in a series of blasts to hit politically significant sites and in recent weeks -- but nobody was wounded, police said.
Britain on Tuesday extended a warning against visiting Thailand, urging its nationals to avoid all but essential travel to the whole country due to "violent incidents of an unpredictable nature."