BANGKOK (AFP) – Thailand's Prime Minister Abhisit Vejjajiva and anti-government protesters on Sunday edged closer to landmark talks aimed at ending two weeks of mass rallies.
The red-shirted supporters of ousted leader Thaksin Shinawatra, jubilant after their latest demonstration forced a military retreat, had threatened to march on the military barracks where Abhisit has been holed up.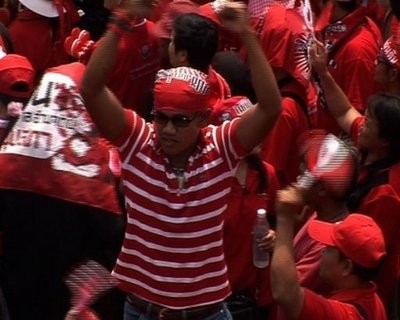 Thai troops withdrew from several security posts in the capital Saturday, under pressure from some 80,000 jubilant red-shirted protesters who mounted a new rally to call for fresh elections. (AFP TV)
The premier said in a special television address that he would not be forced into meeting with the Reds, who are demanding fresh elections to replace the government, which they condemn as elitist and illegitimate.
"If protesters come to the 11th Infantry Barracks, I will not be there to talk," Abhisit said as some 60,000 "Red Shirts" massed in Bangkok's old quarter in preparation for the march.
Reds leader Nattawut Saikua suspended plans to descend on the barracks, located on Bangkok's northern outskirts, to give the government a chance to consider an offer for negotiations with a small delegation.
"If you don't want our people to march, four representatives will go and talk to you," he said. "We will wait for Abhisit to set the venue."
The premier's secretary Korbsak Sabhavasu said that proposals for the negotiations had been issued to the anti-government camp.
"There will be three other people joining the prime minister for these talks," he said. He did not set a date but said they would likely be held at an educational institute in Bangkok.
Nattawut said the Red Shirts had "no objections" to those proposals.
"When a political fight comes to the point of talks among two parties, we hope we will achieve a good solution which will help the country move out of conflict," he said.
However, previous "talks about talks" have subsequently failed because of the protesters' demands that parliament be dissolved before they come to the meeting table, and by the government's offer to send only a junior minister.
The Reds are riding high after a rally Saturday that drew 80,000 people and forced troops to retreat from several security posts in the heart of the capital where they have been stationed since the demonstrations began.
Women threw flowers at truckloads of troops who left locations including the city's zoo and Buddhist temples, drawing cheers from protesters who turned the streets red with their colourful clothes and heart-shaped clappers.
The military has mounted a strong security operation involving 50,000 personnel for the demonstrations, which began on March 14 after a court ruling that seized 1.4 billion dollars of Thaksin's fortune.
The security measures, including a lockdown of parliament, which was surrounded by barricades and razor wire for a session this week, have been criticised as excessive.
Street demonstrations have passed off peacefully but the capital has been hit by an increasingly bloody series of explosions at government and army buildings.
A dozen people were injured over the weekend, including four soldiers wounded early Sunday when grenades were lobbed at the gate of an infantry barracks.
Saturday saw three explosions, targeting two television stations run by the army and the government, and another on the customs department.
Thaksin, who was removed in a 2006 coup and lives in exile to avoid a jail sentence for corruption, addresses his supporters regularly by videolink and has urged them to increase pressure on the government.
He has also raised the prospect of a campaign of civil disobedience if Abhisit continues to reject demands to dissolve parliament.