Thailand is taking measures to secure major ports and airports, the government spokesman said Monday, as it moves to crack down on anti-government protests.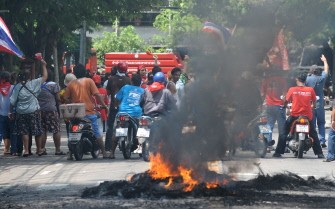 Supporters of Thailand's ousted premier Thaksin Shinawatra burn tyres during a protest near Government House in Bangkok on April 13, 2009. (AFP Photo)
"In the next few hours several security measures will be taken to secure all major ports, airports and major infrastructure for your own safety," Thai government spokesman Panitan Wattanayagorn said.
"This is very normal, routine procedure during the emergency," he said in a live television address that went out on all channels.
Thailand's embattled government on Sunday declared a state of emergency in and around Bangkok in the face of thousands of demonstrators calling for Prime Minister Abhisit Vejjajiva to quit.
"We would like to assure you that the unrest situation in Thailand is being brought back under control," said Panitan, as soldiers clashed with protesters in the streets of the capital.
Authorities at Bangkok's main international airport said that police had been deployed and that security measures were on level three of a four-level scale.
"Police forces are already deployed in line with our security plan," Suvarnabhumi airport director Serirat Prasutanond told AFP. "Flight operations are running normally."
The airport was last year the scene of massive demonstrations staged by a different protest faction which shut flights down for nine days.
Armed soldiers were also deployed at commuter train stations in Bangkok and at strategic locations including the electricity authority, AFP reporters saw.
Thailand's national rail network was severely disrupted after protesters blocked the tracks at the main station in Bangkok.
"Currently we are running at 90 percent of full operation," said Pariat Rojcharoenngam from State Railway of Thailand.