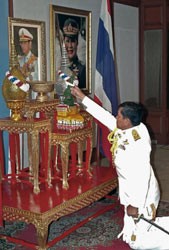 Mr. Sonthi Boonyaratglin, formally received the endorsement of the nation's revered king in a ceremony at army headquarters (AFP Photo)

Thailand's revered king has given his royal blessing to the country's new military leadership as the junta forged ahead with a purge of deposed prime minister Thaksin Shinawatra's government.
In a ceremony broadcast on national television, coup leader General Sonthi Boonyaratglin stood before a shrine to King Bhumibol Adulyadej while an army officer read out a royal decree recognizing him as the head of a new military governing council.
In white dress uniform, Sonthi -- flanked by other officers -- kneeled and bowed before a portrait of the king above the flower-bedecked shrine.
Analysts say royal support for the coup is the main reason why there has been no violence. Soldiers patrolling the streets have tied yellow ribbons on their weapons out of respect for the king.
As Thaksin, in refuge in London, appeared to accept his fate by saying he was taking a "rest" from politics, the military detained or sacked key aides and stepped up a probe into corruption charges against his family.
In the past 24 hours they have installed the army security chief as the new head of national intelligence and sacked three other top officials considered loyal to Thaksin.
Four other senior allies, including his top deputy and two ministers, are "under the care" of the new leadership.
However the auditor general remains in position, allowing her to conclude a corruption probe against the toppled billionaire.
Sonthi has promised new elections for October 2007, saying he would resign from power in two weeks and hand over to an interim premier.
Among those reportedly considered for the post are Supachai Panitchpakdi, former head of the World Trade Organization and chairman of the UN Conference on Trade and Development.
Other names include the president of the Supreme Court, one of the king's top advisers, and the governor of the Bank of Thailand.
So far the junta has imposed martial law, banned political activities and public gatherings, annulled the constitution and slapped restrictions on the media. It has also assumed legislative powers after dismissing parliament.
Thaksin had been facing mounting public anger over corruption allegations, which boiled over in January when his family avoided paying tax after selling nearly two billion dollars worth of shares.
He called a new election in April to shore up his support -- his party is Thailand's largest and he remains popular among the poor -- but the vote was a shambles and eventually invalidated.
Thaksin was also fiercely criticised for his failure to tackle a militant Islamic uprising in the south that has killed more than 1,400 people in nearly three years.
Auditor general Jaruvan Maintaka told newspaper that several long-standing corruption probes into Thaksin's government could wrap up within days, notably over the purchase of high-tech CTX bomb scanners for Bangkok's airport.
"We're confident we can pinpoint the wrongdoers," she said.
In London, where he has a home and where his daughter is studying, Thaksin accepted his five years as premier were over.
A statement issued by his aides urged the regime to quickly arrange a new general election, adding: "Dr Thaksin as of now will take a deserved rest."
In Bangkok, the government threatened to shut down media which violate new restrictions on radio call-in shows, websites and text messaging.
"We have asked for cooperation, but violators ... could face a shutdown of their businesses," Thaneerat Siritachana, the technology ministry official in charge of enforcing the rules, told AFP.
Pressure group Amnesty International called on the leaders to uphold human rights. "No one should be penalised for their peaceful exercise of the rights of freedom of expression, association or assembly," it said.
In Thaksin's home village, meanwhile, residents said they were stunned by his fall from power but believed he would be premier again.
Buddhist monk Phra Arnon Suthiyano said he supported Thaksin because of his work to help the country's poor.
"I still cannot believe the coup has happened," he said in San Kamphaeng, 700 kilometers (430 miles) north of Bangkok.
"I want Thaksin to become prime minister again. I disagree with the use of violence to solve problems. We should make peace through dialogue."
Source: AFP