Thai lawmakers elected Yingluck Shinawatra to be the country's first female prime minister with a majority in a parliamentary vote on Friday, according to an AFP tally
.
Yingluck, the sister of fugitive former leader Thaksin Shinawatra, passed the threshold of 251 votes for a simple majority in the 500-seat lower house, which is dominated by her party after a resounding victory in the July election.
Yingluck Shinawatra is poised to become politically-turbulent Thailand's first female prime minister on Friday after riding to election glory on the coat-tails of her fugitive brother.
Members of the country's newly formed parliament are due to elect Yingluck, whose Puea Thai party and its partners command a three-fifths majority in the lower house, in a vote on Friday morning.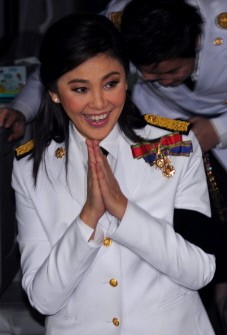 Yingluck Shinawatra
After her selection by lawmakers, the country's 28th prime minister can expect royal endorsement within days to formalise her position.
She will face the immediate challenge of bringing stability to the kingdom, after five years of political turmoil since her brother Thaksin Shinawatra was thrown out of office in a 2006 army coup backed by Thailand's elites.
"We are still in the middle of a very big conflict in the country with very different ideas about what government should be, and what it should be doing," said Thai political analyst Chris Baker.
Analysts believe a key test for Yingluck will simply be whether she can hang on to power in a country where the removal of leaders is commonplace.
Thailand has seen 18 actual or attempted military coups since it became a constitutional monarchy in 1932 and only one prime minister in that time has served a full four-year term -- Thaksin.
Yingluck, described by her brother as his "clone", surprised observers with her assured campaign style, helping her party to a crushing win in the July 3 election.
She has since consolidated her parliamentary dominance by forming a six-party coalition that accounts for 300 of the legislature's 500 seats.
The fresh-faced political newcomer replaces outgoing Democrat prime minister Abhisit Vejjajiva, whose establishment-friendly party limped to a distant second in the poll.
Baker said her parliamentary majority -- along with the weakened state of the nationalist and anti-Thaksin "Yellow Shirt" protest movement and a lack of public support for the army -- will give Yingluck "breathing room".
She is however, expected to face pressure from the "Red Shirts", many of whom support Thaksin for his populist policies during his 2001-2006 rule.
The movement, which has key representatives in Yingluck's party, will expect justice over its April and May rallies last year that ended with a military assault and more than 90 people dead.
Yingluck's vote-grabbing promises, such as a minimum wage hike and higher rice prices for farmers, have also come under scrutiny, with the Bank of Thailand warning they could stoke inflation.
Abhisit addressed the nation for the last time as acting prime minister on Thursday evening, defending his economic credentials and expressing hope that the move to a new government can help end political conflict in the country