BANGKOK, March 31, 2011 (AFP) - Thai troops joined the search for victims of deadly mudslides that engulfed homes in the flood-hit south, officials said Thursday, as naval boats rescued hundreds of tourists stuck on holiday islands.
At least 15 people have died after unseasonably wet weather deluged the homes and businesses of around a million people in what should be one of the hottest months of the year.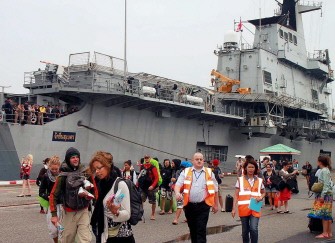 AFP - Foreign tourists disembark from a Thai Navy aircraft carrier at Sattahip naval base, some 150 kms southeast of Bangkok, on March 31, 2011 after around 700 of them were evacuated from Ko Tao island, in the Gulf of Thailand
Around 150 troops with sniffer dogs moved in to search for the dead and missing in the southern province of Krabi after a mudslide, army spokesman Colonel Sunsern Kaewkumnerd said, as at least two people were confirmed killed.
Over a week of rain has swept floodwaters across the south of the country, cutting off road and rail links and leaving tourists stuck on islands in the Gulf of Thailand and Andaman Sea as ferries and flights were cancelled.
Efforts to reach trapped visitors appeared to be making headway on Thursday as flights to Koh Samui returned to normal and the country's only aircraft carrier, Chakri Naruebet, joined the rescue effort.
The ship docked in Sattahip naval base early Thursday morning carrying 734 holidaymakers, 532 of them foreigners, who had been picked up on the islands of Koh Tao and Koh Phangan.
The navy said more frigates are expected to collect tourists from isolated islands in the Gulf of Thailand during the day.
Bangkok Airways said flights to Koh Samui were operating normally and predicted it would clear the backlog of stranded passengers on Thursday.
Deputy Prime Minister Suthep Thaugsuban said ferries to Koh Samui and Koh Phangan had also resumed.
"But for small islands like Koh Tao the naval response was critical. Thousands of tourists were stuck there and there was not enough food and water, so we had to help them first," he said.
He said up to 10 people were missing in the Krabi area after the mudslide.
Local authorities confirmed two people had died as the sludge submerged around 17 homes in the area, but Thailand's disaster prevention and mitigation department indicated the death toll could be higher.
The department said another 13 people were killed in floods across other parts of the south, with nine dead in Nakhon Si Thammarat province, three along the coast in Surat Thani and one in neighbouring Phatthalung. Another 181 people were injured.
In all 81 districts of eight southern provinces have been declared disaster areas.