BANGKOK, Nov 27, 2011 (AFP) - Thailand's justice minister was forced Sunday to defend himself against a no confidence motion after the opposition alleged official flood relief work had been plagued by corruption and mismanagement.
As director of the government's Flood Relief Operation Command, justice minister Pracha Promnok was responsible for overseeing nationwide relief efforts in the wake of Thailand's worst floods in half a century.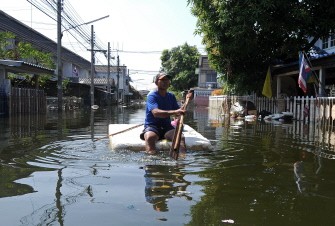 AFP - Thai man paddles on a large foam through floodwaters during floods at Baan Wang Thong Village in Bangkok on November 25, 2011. Thailand's worst floods in half a century devastated vast areas of the kingdom and have left more than 600 people
The floods devastated vast areas of the kingdom and have left more than 600 people dead.
Pracha's work was grossly inadequate, said opposition Democrat Party lawmaker Jurin Laksanavisit, who claimed that both the state's flood aid budget and private donations had been embezzled by ruling party officials.
"The widespread floods were not only caused by nature, but also by a failure of the Flood Relief Operation Command to deal with the situation," Jurin told parliament.
Pracha defended his record and denied the corruption allegations, telling parliament that ruling Puea Thai lawmakers had worked tirelessly to help their constituents during the floods.
The no confidence vote will be held Monday, which is also the last day of the current parliamentary session.
The motion also took aim at a reported royal pardon for fugitive ex-premier Thaksin Shinawatra.
Jurin saying the opposition could no longer trust the justice minister after "the cabinet secretly passed the royal pardon plan which we believe was meant to help one person".
The government last week ruled out a royal pardon for Thaksin, who lives abroad to escape a jail term for corruption, after strong criticism from opponents to a reported draft decree.
Royal pardons, which usually exclude convicts found guilty of drug offences and corruption and those who have not spent time in prison, are granted each year on King Bhumibol Adulyadej's birthday on December 5.
Local media had claimed that this year's decree would be expanded to apply to "convicts who are at least 60 years old and are sentenced to under three years in jail".
Thaksin, who was ousted by the army in a 2006 coup, is 62 and lives in self-imposed exile in Dubai to avoid a two-year sentence for graft.
Pracha said there had been no wrongdoing regarding this year's royal pardon and that he had "no hidden agenda to benefit any specific people".
Reports of the pardon came at a delicate time for Prime Minister Yingluck Shinawatra, who is Thaksin's younger sister and widely considered his political proxy, as she also faces criticism for her handling of devastating floods.