Thailand's new parliament convened for business for the first time on Tuesday, electing a speaker in initial steps that pave the way for the country's first female prime minister to take power.
Somsak Kiatsuranond, who is a member of premier-in-waiting Yingluck Shinawatra's Puea Thai party, was elected unopposed to the role of house speaker, a day after the parliamentary session's opening ceremony.
Yingluck, sister of fugitive former leader Thaksin Shinawatra, is expected to be selected later this week in a parliamentary vote, which Somsak said he would call on Thursday or Friday after his endorsement by the king.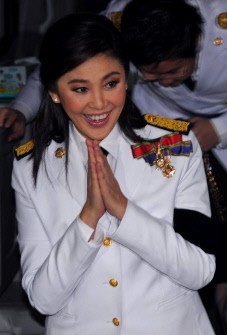 Thai Prime Minister-in-waiting Yingluck Shinawatra gives a traditional Thai greeting to the press prior to the official opening of parliament in Bangkok on August 1, 2011
Puea Thai won a convincing majority in the July 3 election and Yingluck, a political novice, has formed a six-party coalition that holds three fifths of the lower chamber's 500 seats.
Her team faces the tough challenge of bringing stability to Thailand, which has suffered a string of political crises sparked by Thaksin's ouster in a coup in 2006.
Ahead of parliament convening, Yingluck told reporters she had decided on half of the positions in her cabinet.
"I want everything to be finalised as soon as possible so I can get down to work. There are many things that have to be done," she said.