BANGKOK, March 29, 2009 (AFP) - Thai Prime Minister Abhisit Vejjajiva Sunday accused fugitive former leader Thaksin Shinawatra of stoking unrest for personal gain as protesters surrounded the seat of government for a fourth day.
Thousands of demonstrators loyal to the exiled Thaksin have been camped out at Government House in Bangkok since Thursday, listening to fiery video addresses by their billionaire leader condemning the current administration.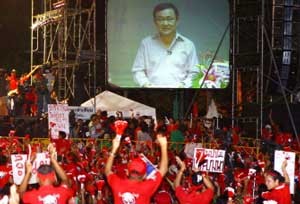 Supporters of Thailand's ousted premier Thaksin Shinawatra react while listening to his speech during a demonstration at Government House in Bangkok on March 27 (AFP Photo)
Thaksin urged his supporters late Saturday to "rise up" against the government, while a day earlier he accused two of the revered king's advisers of masterminding the 2006 military coup that toppled him.
"He is trying to arouse people in an effort to gain benefit for himself," the British-born Abhisit told reporters.
The prime minister said that while protests were allowed by law, the demonstrators "should not make more trouble for people who are already suffering from economic turmoil."
Some 1,500 people kept up the vigil at Government House for the fourth day Sunday.
In his recent speeches, Thaksin has called for Abhisit, the leader of the ruling Democrat Party, to dissolve the government and call fresh elections.
He further hit out at Abhisit's policies for lifting Thailand out of the slump caused by the global financial crisis, which has hurt the kingdom's export-dependent economy.
Abhisit defended his government, saying it "is still focused on working, we are confident we can carry on working."
Thaksin loyalists have held several similar protests since Abhisit came to power in December, following a controversial court decision to dissolve the previous administration led by Thaksin's brother-in-law.
They accuse Abhisit of being a stooge of Thailand's powerful army and are demanding the prosecution of the people behind a siege of Bangkok's airports late last year which helped to hasten the fall of the last administration.
Abhisit meanwhile defended two of the king's advisers -- ex-premiers General Prem Tinsulanonda and General Surayud Chulanont -- against Thaksin's accusations that they were responsible for the coup against him.
"A protest for political demands should be related to politics, there is no reason to mention the privy council," he said, referring to King Bhumibol Adulyadej's advisors.
Foreign Minister Kasit Piromya said Sunday that the government was pushing forward on talks with other countries on the possible extradition of Thaksin.
The former premier was sentenced in absentia in October to two years in prison for abuse of power linked to a 2003 land deal.
He said earlier this month that he was in Dubai after months of keeping his whereabouts secret, and he abruptly cancelled plans to appear in person at an event in Hong Kong in early March.
"Prosecutors and the foreign ministry talked to Hong Kong and China recently about the extradition and will talk to Dubai next week," Kasit said in the ruling party's annual meeting.
Since his ouster, Thaksin has hopped around the world, with his travels including a brief stint as the owner of English football club Manchester City.
Thailand remains deeply divided between Thaksin's supporters, primarily the rural and urban poor, and his foes among the old power cliques in the palace, military and the Bangkok elite.