BANGKOK, April 24, 2010 (AFP) - Thai Prime Minister Abhisit Vejjajiva on Saturday rejected a compromise offer from anti-government "Red Shirts", who had said they would end weeks of protests if polls were called in 30 days.
"No, I reject it. Because they use violence and intimidation I cannot accept this," Abhisit said of the Reds' offer which was a softening of their earlier demands for snap polls.
"The 30-day ultimatum is not an issue. The dissolution (of parliament) must be done for the benefit of the entire country, not just for the Red Shirts, and it must be done at the right time," he said.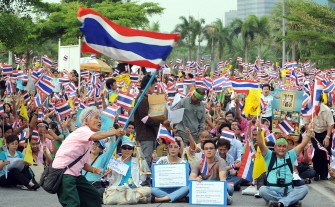 Pro-government supporters wave national flags during a demonstration to counter anti-government "Red Shirt" protests in Bangkok on April 24, 2010. AFP photo
The international community has urged both sides on Thailand's political divide to find a negotiated solution to end weeks of protests that have been punctuated by deadly clashes leaving 26 dead and hundreds injured.
"The 30-day concession is just aimed at getting the attention of foreign media. I don't think it is the answer to the problems," Abhisit said.
"Tomorrow everything will become more clear when I and the army chief will jointly appear on my weekly television address."
"Negotiations must be aimed at finding a solution for the whole country, not just the Red Shirts, they are just part of society," he added. "We have to uphold the rule of law."