BANGKOK, Aug 23, 2011 (AFP) - Thailand's new premier outlined her government's policy agenda Tuesday in a speech to parliament overshadowed by a row over her fugitive brother's activities.
Prime Minister Yingluck Shinawatra, the sister of ousted former leader Thaksin Shinawatra, pledged to boost the economy and strive for reconciliation after years of political unrest following her brother's overthrow.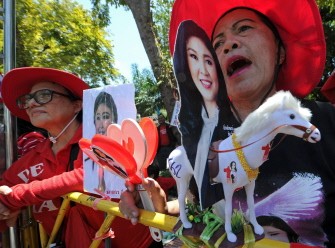 AFP- "Red Shirts" protesters shout slogans in support of Thai Prime Minister Yingluck Shinawatra while she delivered the inaugural policy statement to parliament in Bangkok on August 23, 2011
She also vowed to tackle the problems of drugs and human trafficking in her address to lawmakers, but gave few specific details of her policy plans.
Her rapid rise to power marks a comeback for Thaksin, who led Thailand between 2001 and 2006 before being deposed in a coup. The former tycoon now lives in Dubai to avoid a two-year jail term for corruption.
Thaksin, who also faces terrorism charges in Thailand, is this week visiting Japan, where he addressed international media on Tuesday and was due to visit areas devastated by the March 11 earthquake and tsunami.
The trip, seen as an attempt by the fugitive to return to the world stage and regain international legitimacy, has been criticised by the Thai opposition, which says the government illegally helped him obtain a visa.
Yingluck, a political novice described by her brother as his "clone", was also accused in parliament on Tuesday of failing to give sufficient details of campaign pledges such as an increased minimum wage.
"The government has changed its policies from those in the election campaign," said former premier Abhisit Vejjajiva, the opposition leader.
Thailand has seen frequent political unrest since the 2006 coup that ousted Thaksin. His "Red Shirt" supporters staged mass protests last year that prompted a military crackdown in which more than 90 people died.
Thaksin said Tuesday he had no immediate plan to return to Thailand and would not meddle in his sister's government.
Speaking to journalists in Tokyo, the one-time billionaire telecom tycoon said that as "for my plan of going back to Thailand, I have no plan".
"Whenever reconciliation happens, then that might be. But if reconciliation is not there, I don't want to fuel any more conflict. I just want to be part of the solution, not part of the problems."
Thaksin is still loved by many poor and rural Thais for the populist policies he launched in office, but is seen by the Bangkok-based elite as authoritarian and a threat to the country's revered monarchy.
He has dismissed the accusations against him as politically motivated.