BANGKOK, Aug 10, 2009 (AFP) - Gunmen sprayed bullets at a Bangkok office of the party of Thai Prime Minister Abhisit Vejjajiva on Monday, police said, underscoring the kingdom's continuing political tensions.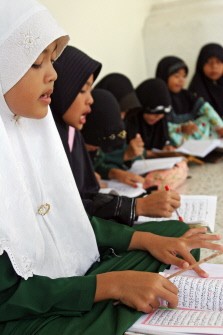 This photo taken on August 9, 2009 shows Thai Muslim girls studying the Koran at a mosque in the southern province of Pattani on August 9, 2009. Emergency rule was extended in July by the Thai government for another three months over its restive southern region. (AFP photo)
There were no injuries in the pre-dawn incident at the Democrat Party office in the Klong Toey area of the capital but the gunfire damaged the front door, they said.
The attackers were believed to be travelling by motorcycle, police said.
Abhisit's Democrat Party has led Thailand's ruling coalition since December last year, after months of protests that ended in the toppling of the previous government loyal to fugitive former premier Thaksin Shinawatra.
Abhisit has struggled to heal the rifts between the largely rural poor -- many of whom remain loyal to the populist Thaksin who was ousted in a 2006 coup -- and powerful Bangkok cliques in the palace, military and bureaucracy.
Riots by pro-Thaksin "Red Shirts" in April derailed a major summit of Asian leaders and left two people dead and 123 injured, prompting Abhisit to declare emergency rule in Bangkok.
Later in April the founder of the rival "Yellow Shirts" -- who were behind a nine-day blockade of Bangkok's airports late last year that hastened the end of the last government -- was wounded in an assassination attempt.