According to Vietnam News' source from Bangkok said Thai police have found several explosive devices that failed to detonate in three popular tourism spots over the weekend, reported Thailand's Interior Ministry on August 14.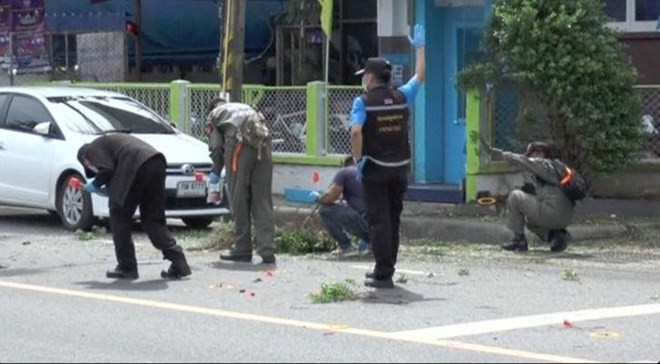 Police check the scene after two bomb blasts in the southern province of Surat Thani, Thailand in this still image from video August 12, 2016 (Photo: REUTERS/VNA)
The devices were found and defused on August 14 in Hua Hin resort and Phuket, a well-known tourist town. The two places were hit by explosives on August 11.
On August 13, the police also discovered similar devices in Phang Nga province, which was bombed on August 12.
Mobile phones were used to detonate home-made bombs in several areas at the same time in a series of bomb attacks in the country's south.
No group has claimed responsibility for the attacks.
At least 11 blasts occurred in five southern provinces of the country between August 11-12, killing 4 people and injuring tens of other people, including foreign citizens.
About 20 foreign embassies in Thailand, including the US, German, and Japanese have issued travel warnings for their citizens.-