BANGKOK, Nov 16, 2009 (AFP) - Thai police were investigating Monday a blast at a rally by opponents of fugitive former premier Thaksin Shinawatra, as the number of injured rose to 12, including two children.
Organisers said the small explosion at the protest in central Bangkok late Sunday was caused by a firecracker thrown by two men on a motorcycle, but police said the cause was still not clear.
The rally by around 20,000 "Yellow Shirts" was held to condemn Thaksin's visit to neighbouring Cambodia last week and his appointment by Phnom Penh as a an economic adviser to the government.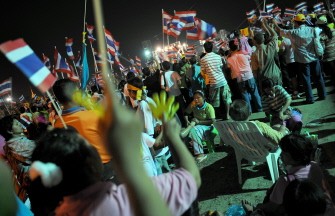 Demonstrators (C) from Thailand's royalist "Yellow Shirt" movement have their feet massaged during a rally in Bangkok on November 15, 2009 (AFP photo)
Deputy national police spokesman colonel Piya Utayo said police were continuing to investigate the blast. He said 12 people including two boys were wounded, updating an overnight toll of four hurt.
Photographs of the scene showed a small crater in a paving stone and a number of supporters of the People's Alliance for Democracy (PAD) suffering from slight cuts.
The royalist PAD said they were also protesting against comments about the monarchy made by billionaire Thaksin, who was ousted in a bloodless coup in September 2006.
The Yellow Shirts held mass rallies in the months before the coup and took to the streets again in 2008, blockading Bangkok's airports to drive out the then pro-Thaksin government.
The group has however also held protests in recent weeks asking the current government of Prime Minister Abhisit Vejjajiva, a bitter foe of Thaksin, to take stronger action against Cambodian territorial claims.
Yellow Shirt founder Sondhi Limthongkul was in October voted leader of the movement's new political party, the New Politics Party.
Sondhi survived a gun attack on his car in April, while previous rallies by the Yellow Shirts have been hit by grenade blasts.
Thaksin's visit to Cambodia sparked a diplomatic crisis between Bangkok and Phnom Penh, with relations already tense after a series of deadly clashes in the past year over disputed land around a temple on the border.
Both countries have recalled their ambassdors and expelled the first secretaries of each other's embassies. Cambodian police have also charged a Thai man with spying.