BANGKOK, April 29, 2010 (AFP) - Thailand's "Red Shirt" protesters Thursday tried to put international pressure on their government by asking the European Union to send observers to monitor further crackdowns by the Thai army.
A day after violent clashes on Bangkok's streets between demonstrators and troops left one soldier dead and 18 people injured, the Reds asked the European Union delegation in Bangkok for help in the crisis.
"The government used force to crack down on innocent protesters, and it's likely there will be further violent crackdowns," a senior Red member, Jaran Ditsatapichai, said on a stage at the movement's main demonstration site.
The Reds -- who have demanded the resignation of Prime Minister Abhisit Vejjajiva's government -- sent a letter to EU ambassador David Lipman with an "urgent request" to send monitors to Bangkok to prevent another crackdown.
The ambassador met the protesters briefly and called for a peaceful, negotiated solution to the crisis, said an EU statement.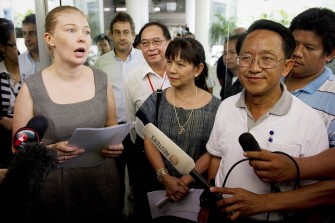 European Union delegation press officer Suvi Seppalawen (L) speaks to the media after meeting with members of the 'Red shirt' movement (R) at the European Union delegation office in Bangkok on April 29, 2010. AFP photo
The meeting followed last week's invitation by Red leaders to Bangkok's diplomatic community to visit their protest site, prompting a rejection from Thai Foreign Minister Kasit Piromya Thursday of any foreign help.
"There is no need for international intervention at this point in time," Kasit told a press conference during a visit to Jakarta.
"We're very much in control of the situation and it's still very much an internal affair of Thailand," he said, adding the government was "concerned" that some diplomats had visited protesters, but did not specify who.
Thailand is reeling from the worst political violence in almost two decades in its capital, where 27 people have died and almost 1,000 have been injured this month in a series of bloody confrontations.
Many of the Reds come from Thailand's rural poor and urban working classes and seek the return of former prime minister Thaksin Shinawatra, who was ousted in a 2006 coup and now lives overseas to avoid a jail term for corruption.
The country is largely split between the Reds and the pro-government Yellow Shirts, who staged their own street protests that heralded a 2006 coup ousting their enemy Thaksin.
Around 1,000 Yellows gathered Thursday outside an army base where Abhisit and his cabinet have been working since demonstrations began last month.
The Yellows' rally, the first by the movement since the Reds began their own mass protests in mid-March, demanded the government and army get tougher on Red demonstrators and impose martial law in Bangkok.
Amid fears of factional violence between the two camps, the Yellows said they held similar rallies Thursday at over 40 army bases across the country.
Leaders of the Reds, who for weeks have occupied a main commercial area in Bangkok, expressed surprise at authorities' measures Wednesday, when troops fired at protesters on a highway in Bangkok's northern suburbs.
Troops fired into the air and also directly at the Red Shirts as the standoff between the two sides spilled over from the protesters' fortified rally base in the heart of the capital, which is under a state of emergency.
One soldier died, apparently from friendly fire.
The army said it had used real bullets in the northern Bangkok standoff, as protesters hurled rocks at soldiers and riot police used razor wire to block their convoy on a major road heading out of the city.
Security forces said they had also seized 62 M79 grenades from suspected Red Shirts riding a motorcycle towards the area where the confrontation occurred.
The Red Shirts have been on alert for a crackdown since April 10, when a failed attempt by the army to clear Bangkok's historic area turned into bloody street battles that left 25 people dead and hundreds injured.
A series of grenade blasts last week killed one person and injured dozens in the city's financial district.
The Red Shirts have reinforced roadblocks and stepped up security checks on the perimeter of their sprawling protest site, which has been fortified with barricades made from piles of truck tyres, razor wire and bamboo stakes.
Abhisit, regarded as elitist and undemocratic by his opponents, has rejected an offer by the Reds to disperse if elections are held in three months' time.